Madonna delle Grazie
Elba
Villa in Italy by the sea
Seafront Villas Italy
With 7600 kilometres of coastline, Italy does not suffer from a shortage of spots for lively sea resorts, quaint fishing villages or perfect locations for secluded luxurious beach villas.
Whether on an island or on the mainland, Casa in Italia has a wide range of seafront properties in all the regions in Italy. You may want a house with direct access to the beach, offering you the possibility to pop back to the house for lunch or a nap in the shade. Alternatively, your choice might be a luxury home nestled at the top of a cliff, where it will be hard to tear yourself away from a breathtaking panorama in various shades of blue.
Here is a selection of our seafront villas:
Liguria
Cinque Terre, Portofino and more
In the Liguria region you will find the famous Cinque Terre area, an unspoiled coastal paradise made of footpaths, vineyards, stone walls and beaches nestled at the foot of majestic cliffs.
Portofino is the most famous village in Liguria. The town personifies la Dolce Vita and has become over the years a popular holiday destination.
Le Lagore is a farmhouse full of character and lovingly restored, overlooking the Gulf of Levanto. Take advantage of its sunny terrace and enjoy the heavenly panorama.
The superb beach of Levanto is only a kilometre away.
Tuscany
Versilia with Viareggio and Forte dei Marmi, Maremma and Argentario
The popular Versilia region has many fashionable sea resorts. Viareggio is the largest one in Tuscany and offers fine examples of Art Nouveau architecture and a great nightlife.
Fortei dei Marmi has a fortress built in the middle of its main square.
The Maremma area has kept its authentic roots, with Argentario being a perfect example: wild coasts and an abundance of vegetation, as well as crystalline waters.
Tuscany Villa by the sea
Sunset Villa
Located in a nature reserve, this stunning tower overlooks the bay of Talamone.
Ideal to discover the Maremma and enjoy the sea resorts.
Amalfi coast
Sorrento, Positano and Amalfi
The Amalfi Coast gives you a taste of heaven. Let's mention the buzzing town of Sorrento, close to Pompeii and Capri.
Or Positano, its colourful houses spectacularly hanging from a cliff and Amalfi itself, with breathtaking views and remarkable architecture.

An unusual, modern villa of 60's inspiration, offering a view over the sea from every room.
La Limonaia di Maiori is a symphony of green (vegetation), yellow (lemons) and blue (sea), has an unconventional swimming pool and a private sea access
Apulia
Gargano, the coast near Fasano and Ostuni, Salento
The Gargano region mingles beautiful monuments, including an ancient shrine, with volcanic rocks.
Fasano is a labyrinth of stairs, lanes and squares with a great olive oil museum.
The white city of Ostuni looms over the coast and Salento has fabulous sandy beaches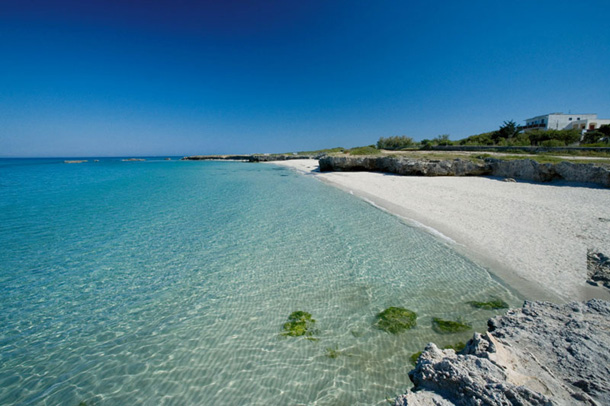 A stunning villa in a charming seaside village, 200 meters from the sea.
Villa Diana sports outstanding outdoor facilities: Unusual swimming pool, Jacuzzi, shower, open-air oven and a splendid terrace.
and of course the
islands
:
Sicily
Taormina, Siracusa, Marina di Ragusa, Sciacca and Marsala and in the north Scopello and San Vito lo Capo
Discover the spellbinding baroque town of Taormina, Siracusa the beautiful with mixed origins and Ragusa, the city divided by a steep ravine. Or taste the famous Marsala wine and visit the thermal and mud baths of Sciacca. Alternatively, head north to the feudal village of Scopello and join in the San Vito Lo Capo couscous festival.
Casa Blu is an exclusive contemporary villa overlooking the sea, with the beach a few metres away. All-white interior and elegant outdoor living area. Close to all the natural and man-made wonders of South-East Sicily.
Sardinia
The second largest island in the Mediterranean, Sardinia boasts many castles and forts, a rocky coastline and magical beaches. Its capital, Cagliari, is an animated city with interesting architecture. Other towns, such as Alghero and its port, are equally enticing.
Superbly located Mediterranean villa with views over the sea and the cliffs.
Belvedere is a welcoming house with a lovely veranda, ideal for exploring the coast and even take a day trip to Corsica
Elba
A green oasis surrounded by clear waters, Elba and its cliffs, beaches and sparkling colours will bewitch you.
It is perfect to enjoy all kind of water sports, and snorkelling and diving will take you into an enchanted universe.
Madonna delle Grazie holds a panoramic position over the gulf and benefits from a direct access to the sea.
The house is decorated in a marine style and has a completely independent apartment, as well as several outdoor areas.
Capri
Close to the Neapolitan coast, Capri enjoys a mild climate and therefore a magnificent flora. A plethora of grottoes are hidden in the cliffs and rocks around the island and some can be visited. There are many wonderful beaches too.
Ischia
The "Emerald Island": this is Ischia's nickname, thanks to its abundant vegetation. Created by a volcano explosion, Ischia benefits from both gorgeous beaches and numerous renowned thermal spas.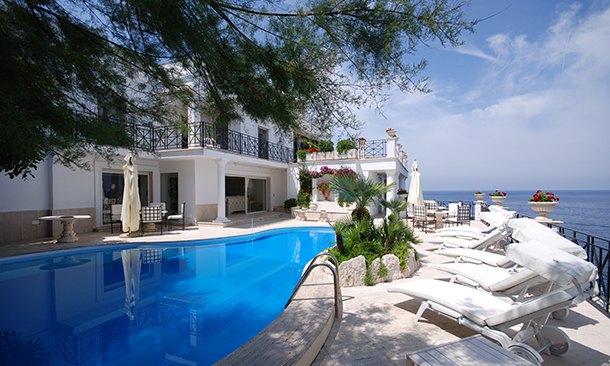 Set on a cliff above the deep blue sea, Punta Caruso is a high quality villa mingling old furniture with contemporary touches. Fabulous terraces and a swimming pool, as well as private stairs leading to the sea
Favignana
The largest of the Egadi Islands, Favignana is known as "The Butterly" because of its peculiar shape and its old quarries provide spectacular scenery.
Favignana city is overlooked by an ancient Saracen watching station and has a charming port.
Mariposa is a luxury yet environmental friendly villa on the island of Favignana. It has a unique design and exquisite interiors, a small pool and fabulous outdoor areas.
The house is only a few minutes from two of the most beautiful bays.