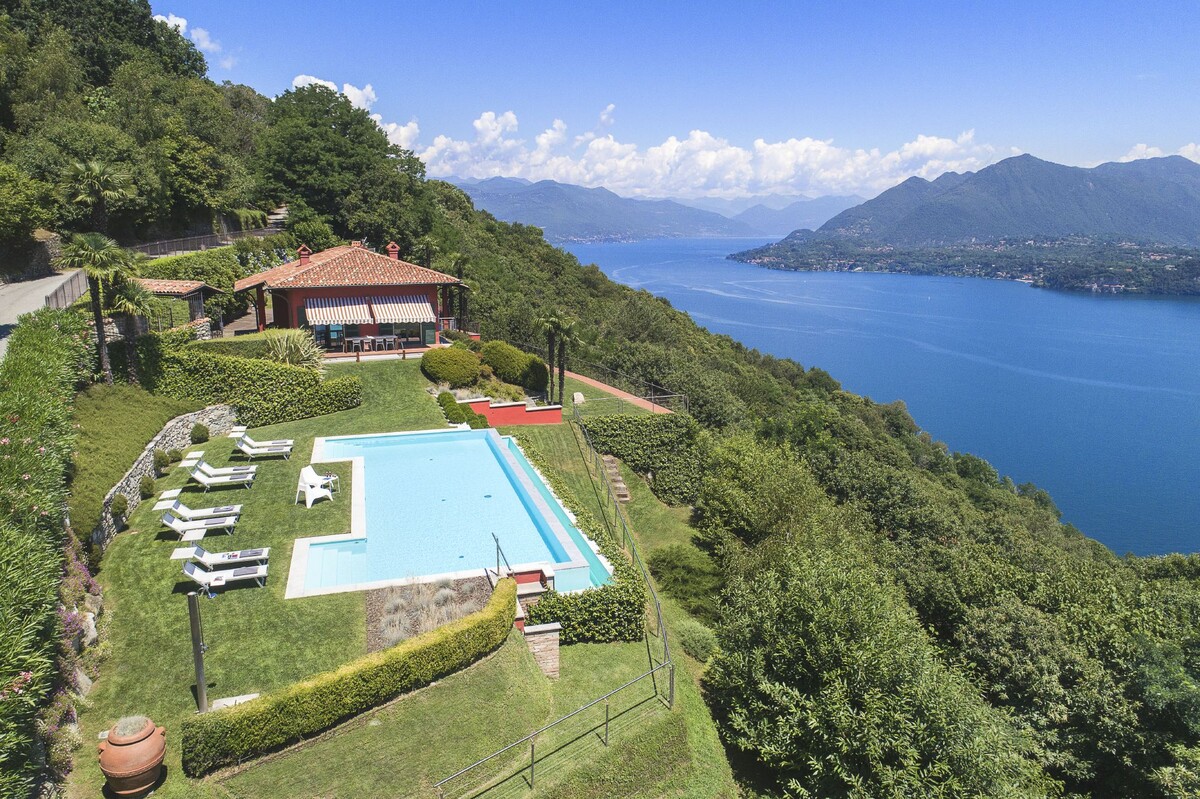 Rent a Holiday villa in Lake Maggiore
DISCOVER LAGO MAGGIORE
1. One of the largest lakes in Europe, Lago Maggiore is both Italian and Swiss. Its mild climate may have played a part in its original name. The luxuriant vegetation growing on its shores includes large bushes of verbena, which inspired people in medieval times to call the lake "Verbano". In the words of Stendhal: "if you had a heart and a shirt, you would sell your shirt and visit Lago Maggiore"...
2. Stresa, a beloved holiday destination since the Simplon rail tunnel was opened, has retained its grandeur. The flamboyant hotels in baroque style take place of pride along the lake, the Grand Hotel des Iles Borromées the most magnificent. Ernest Hemingway stayed there while recovering from shrapnel wounds and the hotel figures in his book A Farewell to Arms. Stresa is the starting point for an excursion to the Mottarone Mountain or the Borromeo Islands. The town also has its own biscuit brand, the Margheritine di Stresa, named after Margherita of Savoy.
3. The Borromeo Islands are composed of Isola Madre, Isola dei Pescatori - the only one inhabited - and Isola Bella. The work of Charles Borromeo the 3rd, the Palace and its gardens are an amazing creation. It is a magical world filled with a profusion of palm trees and plants, a water theatre built on three levels, fountains, statues of gods and satyrs and decorations made of numerous shells and pebbles. Not to be missed.
4. Outdoor activities: Lagoni di Mercurago, a park not far from Arona with animals and small lakes. Mottarone Moutain, accessible by cable car from Stresa or by car, with fabulous views over Lago Maggiore and the Alps and an amusement park at the top, Alpyland. Santa Anna Gorge, at the end of the Cannobino River, offers rafting and kayaking. Lago Maggiore also has a zipline with spectacular sceneries.
5. Villas and castles: Villa Taranto, located in Verbania, has beautiful botanical gardens. Villa Pallovicino Park has both a botanical and a zoological garden. Rocca di Arona, an old fortress, is now a public park. Rocca d'Angera has a collection of over 300 frescoes and paintings in its Sala delle Maioliche and a Museum of Dolls and Toys.
6. Lago di Orta: Friedrich Nietzsche, Honoré de Balzac and Robert Browning all described the beauty of this lake, one of the best kept secrets of the region... It is said that its only island, Isola San Giulio, was once the lair of dragons. The large Benedictine monastery is close to the Piazza Motta, the main square on the water, and there is a 12-century Romanesque basilica. The relics of Saint Julius of Novara, who gave its name to the island, are kept in the crypt.