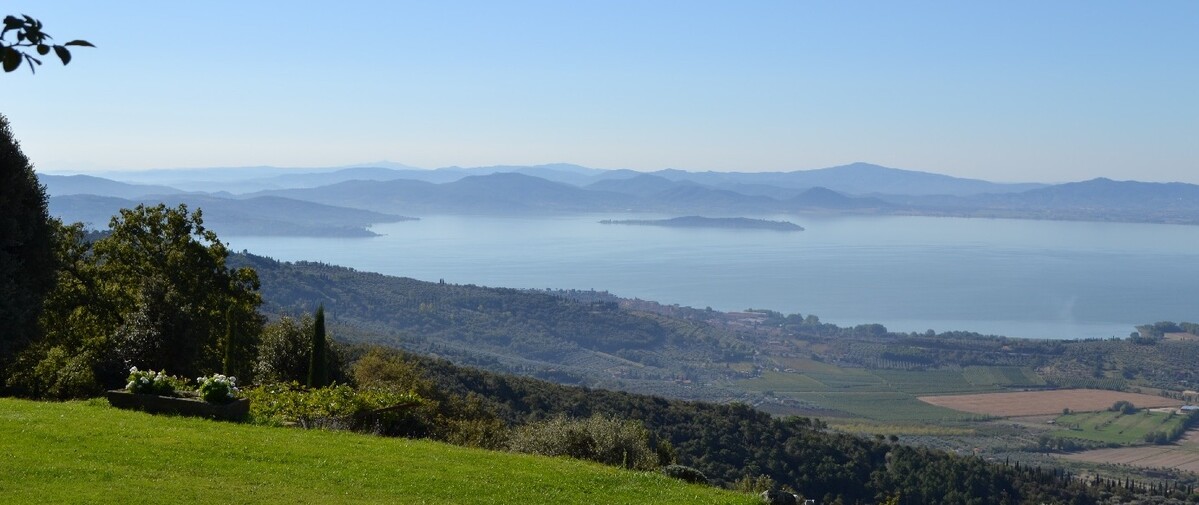 RENT A HOLIDAY VILLA IN UMBRIA
Umbria borders on the regions of Tuscany and Lazio in Central Italy. It is divided into the two provinces Perugia and Terni. The green heart of the country, as Umbria is often referred to, is characterised by dense forests, a high number of olive groves and towns surrounded by green hills. Culinary specialties are truffles and wine from the region. Casa in Italia offers holiday homes and luxury villas in Umbria for a peaceful and relaxing holiday at the heart of Italy.
Sightseeing on your holiday in Umbria
In addition to its impressive flora and fauna, Umbria also offers towns and villages rich in history and culture. So, on your holiday in Umbria you will be able to enjoy both the fantastic landscape and the fascinating culture. For example, you can walk in the footsteps of Francis of Assisi, who left numerous traces in the city of the same name with his order. In general, the towns and villages of Umbria, with their narrow streets and typical stone buildings, exude a very special charm. Many churches date back to the 16th century or older, where valuable artifacts can be admired. For example, in a church in Collazzone, there is a 13th century wooden Madonna and paintings of saints by the painter Pietro Paolo Sensini. The many castles and fortresses also invite you on an exploratory tour that will bring the history of the region closer.
Exploring the cities and regions of Umbria
The cities of Perugia and Terni are also worth a visit if you want to take in the atmosphere of a historic and cultural city. The university town Perugia is famous for its art and culture, with several festivals taking place in the city every year. The city of Terni has the reputation of being one of the most important locations for the industrial revolution in Italy. Near the city, the world-famous waterfall Cascata della Marmore is a must see. It is one of the most popular waterfalls in Europe and the tallest man-made waterfall in the world. Cascatta della Marmore was created by the ancient Romans, making it one of many fascinating historic locations in Umbria.
Start your excursions from one of our holiday villas, which offer you the perfect retreat after an eventful day. Our holiday villas in Umbria can accommodate families and groups of 4 to 30 people.
Holiday villa in Umbria by the lake
At Lake Trasimeno, you can enjoy the beauty of the country directly at the lake. Surrounded by mountains, the fourth largest lake of Italy is a feast for the eyes for nature lovers. If you enjoy sporting activities on holiday, you will find here the possibility to live this out. From bathing to fishing and surfing, Lake Trasimero offers a variety of options to make your holiday in Umbria unforgettable. There are many ways to get to know the Umbria region better. You can explore the dreamlike hilly landscape on horseback, by bike or on foot.
If you want to take it easy for a day or two – or even for the entirety of your stay in Umbria – you can relax in your holiday villa. Enjoy the views over the lake and the mountains in complete peace. With their own pool and beautiful green garden, our holiday villas offer you the perfect basis to spend relaxing days in the region. Why not taste the local wine undisturbed with family or friends and let your gaze wander into the distance? Rent a villa in Umbria and enjoy the peace and quiet of this atmospheric region.
Holiday villa in the green hills of Umbria
There is a reason that the Umbria region bears the name of green heart of Italy. Nestled in forests and vast green plains, the region is a picturesque image. Many villages are simply idyllic and quintessentially Italian. So much so that one could almost have the impression to be time travelling when away from the big touristic hotspots.
Day trips to Collazzone and Corciano
In and around Collazzone, for example, gems can be found that make it worthwhile to plan a day trip. From the holiday houses in Umbria, the area can easily be reached by car. The parish church of San Lorenzo, with its bell tower from the 18th century, is known beyond Collazzone. The bell tower was built above one of the watchtowers.
The village of Corciano, surrounded by fortified walls, sits on top of a hill. In addition to the impressive castle, the town has many historical testimonies, such as the church of San Francesco, built in honour of Saint Francis after he returned to the town. The watchtower of Porta Santa Maria, built as a result of numerous lootings, offers a panoramic view of the surrounding area.
Day trips to these places or other places of interest in Umbria are a great idea. After an excursion, you can relax in your own spacious garden of the holiday villa and reminisce about the day with a glass of wine.
Rent a holiday home or luxury holiday villa in Umbria
Every one of our holiday villas in Umbria is equipped to a high standard. However, if you are looking for a special living experience, a holiday villa in Umbria is the perfect choice. The villas have unique locations in the midst of the hilly landscape of the region and a special view over the meadows and fields of Central Italy. With Italian charm and at the same time modern luxury, the villas offer a good basis for an exclusive vacation. Amenities such as outdoor pools, large gardens or a spa area provide that certain something. Staff can also ensure a carefree holiday. Domestic helpers or cooks can cater to your every need and thus put the finishing touch to your perfect holiday in Umbria.
Sightseeing im Urlaub in Umbrien
Neben der beeindruckenden Flora und Fauna bietet Umbrien auch Städte und Dörfer, die reich an Geschichte und Kultur sind. So können Sie in Ihrem Urlaub in Umbrien sowohl die fantastische Landschaft als auch die faszinierende Kultur genießen. Sie können zum Beispiel auf den Spuren von Franz von Assisi wandern, der mit seinem Orden zahlreiche Spuren in der gleichnamigen Stadt hinterlassen hat. Im Allgemeinen verströmen die Städte und Dörfer Umbriens mit ihren engen Gassen und typischen Steinbauten einen ganz besonderen Charme. Viele Kirchen, die im 16. Jahrhundert oder noch früher errichtet wurden, präsentieren wertvolle Artefakte. In einer Kirche in Collazzone beispielsweise befinden sich eine hölzerne Madonna aus dem 13. Jahrhundert und Heiligenbilder des Malers Pietro Paolo Sensini. Die vielen Schlösser und Burgen laden auch zu einer Erkundungstour ein, die Ihnen die Geschichte der Region näherbringen wird.
Erkundung der Städte und Regionen Umbriens
Die Städte Perugia und Terni sind ebenfalls einen Besuch wert, wenn Sie die Atmosphäre einer historischen und kulturellen Stadt genießen möchten. Die Universitätsstadt Perugia ist berühmt für ihre Kunst und Kultur sowie eine Vielzahl an Festivals, die jedes Jahr in der Stadt veranstaltet werden. Die Stadt Terni hat den Ruf einer der wichtigsten Standorte der industriellen Revolution in Italien zu sein. In der Nähe der Stadt ist der weltberühmte Wasserfall Cascata della Marmore, ein großer Touristenmagnet. Er ist einer der beliebtesten Wasserfälle Europas und der höchste von Menschenhand geschaffene Wasserfall der Welt. Cascatta della Marmore wurde von den alten Römern geschaffen und ist damit einer von vielen faszinierenden, historischen Orte in Umbrien. Starten Sie Ihre Ausflüge von einer unserer Ferienvillen aus, die Ihnen den perfekten Rückzugsort nach einem ereignisreichen Tag ermöglichen. Unsere Ferienvillen in Umbrien bieten Platz für Familien und Gruppen von 4 bis 30 Personen.
Ferienvilla in Umbrien am See
Am Trasimeno-See können Sie die Schönheit des Landes direkt am See genießen. Umgeben von Bergen ist der viertgrößte See Italiens eine Augenweide für jeden Naturliebhaber. Wenn Sie sich im Urlaub gerne sportlich betätigen, finden Sie hier die Möglichkeit, dies auszuleben. Von Schwimmen bis hin zum Angeln und Surfen bietet der Trasimero-See eine Vielzahl von Möglichkeiten, die Ihren Urlaub in Umbrien unvergesslich machen. Es gibt viele Möglichkeiten, die Region Umbriens besser kennenzulernen. Sie können die traumhafte Hügellandschaft auf dem Pferderücken, mit dem Fahrrad oder zu Fuß erkunden.
Wenn Sie es für ein oder zwei Tage - oder sogar für Ihren gesamten Aufenthalt in Umbrien - ruhig angehen lassen wollen, können Sie sich in Ihrem Ferienhaus entspannen. Genießen Sie den Blick auf den See und die Berge. Mit eigenem Pool und schönem grünen Garten bieten Ihnen unsere Ferienvillen die perfekte Basis, um entspannte Tage in der Region zu verbringen. Warum nicht den lokalen Wein ungestört mit Familie oder Freunden probieren und dabei den Blick in die Ferne schweifen lassen? Mieten Sie eine Villa oder ein Ferienhaus in Umbrien und genießen Sie die Ruhe und Stille dieser stimmungsvollen Region.
Ferienvilla in den grünen Hügeln Umbriens
Nicht umsonst trägt die Region Umbrien den Namen "grünes Herz Italiens". Eingebettet in Wälder und weiten grünen Ebenen ergibt die Region ein malerisches Bild. Viele Dörfer sind einfach idyllisch und durch und durch italienisch. So sehr, dass man fast den Eindruck hat auf einer Zeitreise zu sein, wenn man sich abseits der großen touristischen Hotspots befindet.
Tagesausflüge nach Collazzone und Corciano
In und um Collazzone befinden sich beispielsweise Kleinode, die sich für einen Tagesausflug lohnen. Von den Ferienhäusern in Umbrien aus lässt sich die Gegend gut mit dem Auto erreichen. Die Pfarrkirche San Lorenzo mit ihrem Glockenturm aus dem 18. Jahrhundert ist sogar weit über Collazzone hinaus bekannt. Der Glockenturm wurde über einem der alten Wachtürme errichtet.
Das von einer Festungsmauer umgebene Dorf Corciano liegt auf einer Anhöhe. Neben der beeindruckenden Burg hat der Ort viele historische Zeugnisse zu bieten, wie die Kirche San Francesco, die zu Ehren des Heiligen Franziskus errichtet wurde, nachdem er in die Stadt zurückgekehrt war. Der Wachturm von Porta Santa Maria, der nach zahlreichen Plünderungen errichtet wurde, bietet einen Panoramablick auf die Umgebung.
Tagesausflüge zu diesen Orten oder anderen Sehenswürdigkeiten Umbriens sind eine gute Idee. Nach einem Ausflug können Sie sich in Ihrem eigenen großen Garten der Ferienvilla entspannen und bei einem Glas Wein den Tag Revue passieren lassen.
Mieten Sie ein Ferienhaus oder eine luxuriöse Ferienvilla in Umbrien
Jede unserer Ferienvillen in Umbrien ist hochwertig ausgestattet. Wenn Sie also ein besonderes Wohnerlebnis suchen, ist eine Ferienvilla in Umbrien die perfekte Wahl. Die Villen haben eine einzigartige Lage inmitten der Hügellandschaft der Region und einen besonderen Blick über die Wiesen und Felder Mittelitaliens. Mit italienischem Charme und gleichzeitigem modernen Luxus, bieten die Villen eine gute Basis für einen exklusiven Urlaub. Annehmlichkeiten wie Außenpools, große Gärten oder ein Spa-Bereich sorgen für das gewisse Etwas. Auch das Personal kann für einen unbeschwerten Urlaub sorgen. Hausangestellte oder Köche können Ihnen jeden Wunsch erfüllen und so den perfekten Urlaub in Umbrien abrunden.