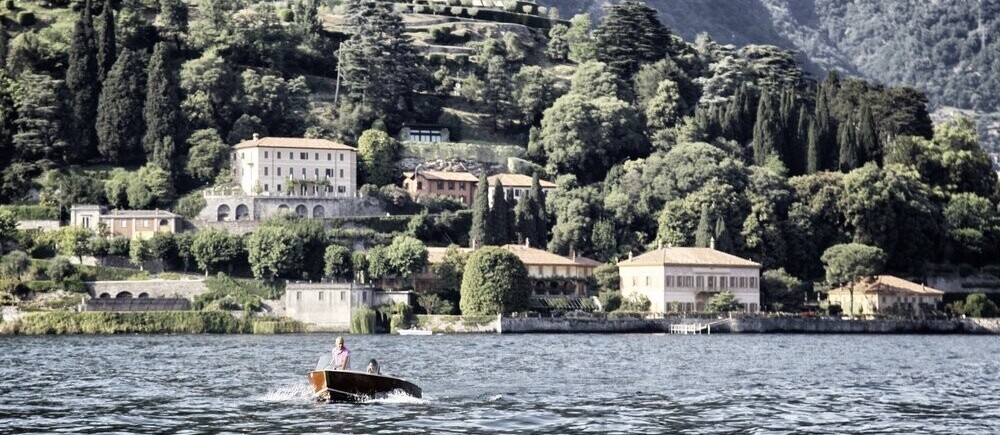 Rent a holiday villa at Lake Como
Lake Como – Lago di Como – is located in Northern Italy in the Lombardy region. With its proximity to the Alps, the lake is embedded in a beautiful landscape. The third largest lake in Italy and one of the deepest in Europe, Lago di Como has an inverted "y" shape. Each of its three banks has different features. The west bank of Lake Como is fairly densely populated with several small villages like Brienno and Lario. Close to Lenno, you can find the sole island of Lake Como: the Isola Comacina. The south bank comprises Bellagio and Lecco as well as the City of Como which is the capital of the province of Como. The east bank is sparsely populated, making it perfect for trips through the nature all around the lake. Several long trails are ideal for hiking or bike trips. Lake Como also offers different water sports such as windsurfing, sailing or kiting.
Our holiday villas are located all around Lake Como, offering the perfect place for peace and quiet during your holidays. The spacious homes offer room for families and travel groups between 6 and 18 persons. Enjoy your very own pool and outdoor facilities – your holiday starts in your holiday villa at Lake Como!
Holiday home right at Lake Como
Enjoy the view of Lake Como from your holiday villa. Some of the homes even have direct access to the lake. There are many places all around Lake Como where you can enjoy the cool water. When you prepare for a lovely day at the lake, keep in mind that most of the beaches are rocky rather than sandy beaches. However, there is a sandy beach next to the Gera Lario harbour. Due to good parking possibilities and a children-friendly environment, it is an excellent location for families. The sand and pebble beach is accessible only to pedestrians and cyclists.
If you prefer sporting activities, Domaso is just the place for you. Domaso is a great goal for daytrips as well as bike tours and is easy to reach from our holiday homes at Lake Como. Lake Como offers excellent water quality due to EU Directives and regular controls. Therefore, you can enjoy your holiday at Lake Como to its fullest. Or you can also refresh yourself at the pool in your holiday villa.
Holiday home in the mountains near Lake Como
When you think of Italian lakes like the Lake Como, you think of beautiful beaches and cool water. But Lake Como also has an impressive mountain scenery. Therefore, we also offer holiday homes in the mountains with view of Lake Como. There, you can spend your holidays relaxed in the seclusion of the mountains but are also able to reach the lake in no time.
Due to the diverse landscape of the Como province, many different activities are possible. For example, there are several hiking trails all around the lake. Or you can explore the Monte Legnone east of Lake Como on a daytrip. If you don't want to climb all the way from the bottom to the top of the mountain, you can drive up to a lodge in about 1,400 metres in altitude. At the lodge, you can get small picnic bags so that you are provided with the right supply for your trip. With its 2,600 metres, Monte Legnone is the highest mountain at Lake Como. It is also the northernmost mountain of the Bergamasque Alps. If you enjoy beautiful sceneries, the trail up the mountain will delight you. It offers forest sections as well as a breathtaking view of the valley. After a long day, relax at your holiday villa with pool at Lake Como.
Holiday villa near the city at Lake Como
There are many sights in the small towns near Lage Como. A cable car offers a fantastic overview of the area. One of the three cable car lines is located close to the harbour of Argegno in the south of Lake Como. From there, the cable car line with its beautiful lake view progresses to Pigra, a small commune in the mountains. Pigra is a perfect place to start a hiking tour or simply enjoy the panorama. Apart from fascinating landscapes, Lake Como also offers historic buildings like the Castello di Vezio in Varenna. The small village is part of the Lecco province and also located south of the lake. The typical Italian houses take you right to a different time. Enjoy a nice glass of wine, delicious food and a sunset right beside the lake. Our holiday villas are located close to this beautiful place so you can reach it by car.
Holiday homes and luxurious holiday villas at Lake Como
Lake Como is known for its impressive villas – and you have the chance to spend your vacation in such a villa. The villas feature modern facilities and some even offer direct access to the lake. Further amenities, depending on the villa, include a swimming pool, garden or even a chef. Spend your holidays at Lake Como in Italy in one of our holiday homes and enjoy the fantastic scenery.
Learn more about the Province of Como
Located at about 50 kilometres of Milan, aristocrats and prosperous families have enjoyed the charm of Lake Como since Roman times. The city of Como is modern but also boasts a rich historical past. A guided tour through Medieval Como is particularly recommended. Learn more about some of the most beautiful locations and interesting sights of the Province of Como in the following.
Bellagio – The Pearl of the Lake
The romantic atmosphere of Bellagio has given the town the nickname of "Pearl of the Lake". Perfectly located in the middle of Lago di Como, it has pale coloured old buildings and cobbled alleyways filled with shops and cafés. Both the gardens of the Villa Serbelloni and the Villa Melzi can be visited.
Varenna and the Walk of Lovers
Varenna is built under high cliffs and has a picturesque walk along the shore called the Walk of Lovers. The Villa Monastero is another place of interest in Varenna, with its portraits of noble Germans and a sunken bath. The narrow but spectacular gardens count a summer pavilion, a large terrace and a promenade with statues.
Sacro Monte of Ossuccio
Starting in Lenno, a short walk will take you to the Sacro Monte of Ossuccio, part of the Sacri Monti registered with the UNESCO as a World Heritage site. The pathway is lined with fourteen shrines containing full-scale statues and leads to the Santuario della Beata Vergine del Soccorso.
Ferienhaus direkt am Comer See
Genießen Sie von Ihrer Ferienvilla aus den Blick auf den Comer See. Einige der Häuser haben sogar direkten Zugang zum See. Rund um den Comer See gibt es viele Orte, an denen Sie das kühle Nass genießen können. Wenn Sie sich auf einen schönen Tag am See vorbereiten, sollten Sie bedenken, dass die meisten Strände eher felsig als sandig sind. Allerdings gibt es einen Sandstrand neben dem Hafen in Gera Lario. Aufgrund der guten Parkmöglichkeiten und der kinderfreundlichen Umgebung ist er ein ausgezeichneter Ort für Familien. Der Sand- und Kiesstrand ist nur für Fußgänger und Radfahrer zugänglich. Wenn Sie sportliche Aktivitäten bevorzugen, ist Domaso genau der richtige Ort für Sie. Domaso ist ein tolles Ziel für Tagesausflüge sowie Radtouren und ist von unseren Ferienhäusern am Comer See aus leicht zu erreichen. Der Comer See bietet aufgrund von EU Richtlinien und regelmäßigen Kontrollen eine hervorragende Wasserqualität. So können Sie Ihren Urlaub am Comer See in vollen Zügen genießen. Oder Sie können sich auch am Pool in Ihrer Ferienvilla erfrischen.
Ferienhaus in den Bergen am Comer See
Wenn man an italienische Seen wie den Comer See denkt, hat man schöne Strände und kühles Wasser vor Augen. Aber der Comer See hat auch eine beeindruckende Berglandschaft zu bieten. Deshalb bieten wir auch Ferienhäuser in den Bergen mit Blick auf den Comer See an. Dort können Sie Ihren Urlaub in der Abgeschiedenheit der Berge verbringen und trotzdem in kürzester Zeit am See sein.
Durch die abwechslungsreiche Landschaft der Provinz Como sind viele verschiedene Aktivitäten möglich. Es gibt zum Beispiel mehrere Wanderwege rund um den See oder Sie erkunden den Monte Legnone östlich des Comer Sees bei einem Tagesausflug. Wenn Sie nicht den ganzen Weg von unten nach oben auf den Berg hinaufsteigen wollen, können Sie mit dem Auto zu einer Hütte in etwa 1.400 Metern Höhe fahren. In der Hütte erhalten Sie kleine Picknicktüten, sodass Sie für Ihren Ausflug mit dem richtigen Proviant ausgestattet sind. Mit seinen 2.600 Metern ist der Monte Legnone der höchste Berg am Comer See. Er ist auch der nördlichste Berg der Bergamasker Alpen. Wenn Sie schöne Landschaften genießen, wird Sie der Weg auf den Berg begeistern. Er bietet sowohl Waldabschnitte als auch einen atemberaubenden Blick ins Tal. Nach einem langen Tag entspannen Sie sich in Ihrer Ferienvilla mit Pool am Comer See.
Stadtnahe Ferienvilla am Comer See
In den kleinen Städten in der Nähe vom Comer See gibt es viele Sehenswürdigkeiten. Eine Seilbahn bietet einen fantastischen Überblick über die Gegend. Eine der drei Seilbahnlinien befindet sich in der Nähe des Hafens von Argegno im Süden des Comer Sees. Von dort aus führt die Seilbahnlinie mit ihrem schönen Seeblick bis nach Pigra, einer kleinen Gemeinde in den Bergen. Pigra ist ein idealer Ort, um eine Wandertour zu starten oder einfach das Panorama zu genießen. Der Comer See bietet nicht nur faszinierende Landschaften, sondern auch historische Gebäude wie das Castello di Vezio in Varenna. Das kleine Dorf ist Teil der der Provinz Lecco und liegt ebenfalls südlich des Sees. Die typisch italienischen Häuser entführen Sie in eine andere Zeit. Genießen Sie ein gutes Glas Wein, leckeres Essen und einen Sonnenuntergang direkt am See. Unsere Ferienhäuser befinden sich in der Nähe dieses schönen Ortes, sodass Sie ihn mit dem Auto erreichen können.
Ferienhäuser und luxuriöse Ferienvillen am Comer See
Der Comer See ist bekannt für seine beeindruckenden Villen - und Sie haben die Möglichkeit, Ihren Urlaub in einer solchen Villa zu verbringen. Die Villen sind modern ausgestattet und einige bieten sogar einen direkten Zugang zum See. Zu den weiteren Annehmlichkeiten gehören, je nach Villa, ein Swimmingpool, ein Garten oder sogar ein Koch. Verbringen Sie Ihren Urlaub am Comer See in Italien in einem unserer Ferienhäuser und genießen Sie die fantastische Landschaft.
Erfahren Sie mehr über die Provinz Como
Etwa 50 Kilometer von Mailand entfernt genießen Aristokraten und wohlhabende Familien seit der Römerzeit den Charme des Comer Sees. Die Stadt Como ist modern, hat aber auch eine reiche, historische Vergangenheit. Eine geführte Tour durch das mittelalterliche Como ist besonders empfehlenswert. Erfahren Sie im Folgenden mehr über einige der schönsten Orte und interessantesten Sehenswürdigkeiten der Provinz von Como.
Bellagio - Die Perle des Sees
Die romantische Atmosphäre von Bellagio hat der Stadt den Beinamen "Perle des Sees" eingebracht. Perfekt in der Mitte des Lago di Como gelegen, besticht sie durch ihre hellen, alten Gebäude und kopfsteingepflasterte Gassen mit Geschäften und Cafés. Sowohl die Gärten der Villa Serbelloni als auch die Villa Melzi können besichtigt werden.
Varenna und die Wanderung der Liebenden
Varenna ist unter hohen Klippen gebaut und bietet eine malerische Runde entlang des Ufers, die Wanderung der Liebenden. Eine weitere Sehenswürdigkeit in Varenna ist die Villa Monastero mit ihren Porträts deutscher Adliger und einem versunkenen Bad. In den schmalen, aber spektakulären Gärten befinden sich ein Sommerpavillon, eine große Terrasse und eine Promenade mit Statuen.
Heiliger Berg von Ossuccio
Von Lenno aus führt ein kurzer Spaziergang zum Sacro Monte von Ossuccio, einem Teil der Sacri Monti, die von der UNESCO zum Weltkulturerbe erklärt wurden. Der Weg ist gesäumt von vierzehn Schreinen mit lebensgroßen Statuen und führt zum Santuario della Beata Vergine del Soccorso.