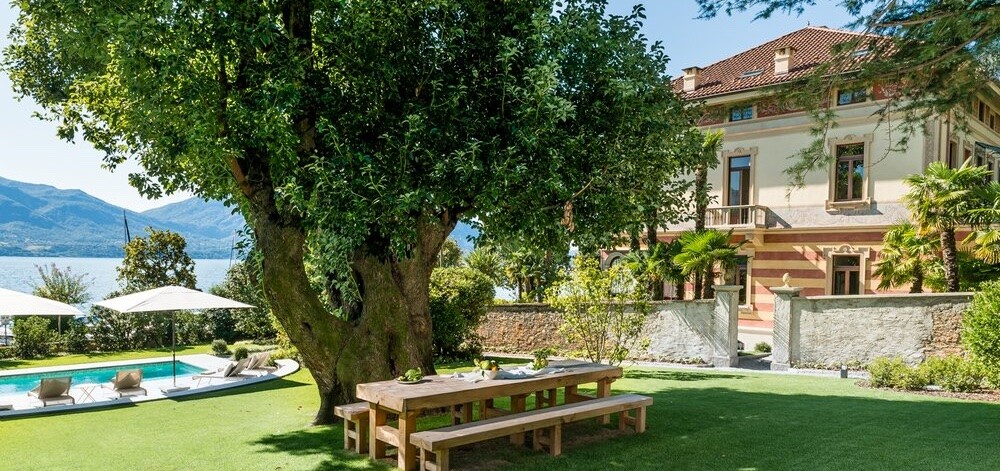 RENT A HOLIDAY VILLA AT LAKE MAGGIORE
Lago Maggiore (Lake Maggiore) is one of the most popular holiday destinations in Northern Italy. It is located in the Piemont region bordering the Swiss Canton of Ticino. Cannobio, Luino and Premeno are among the most well-known towns near the lake. The Lago Maggiore region is diverse: you can spend your holiday at the beach but also visit the small towns and mountain villages of the area – far away from the tourist hotspots. Our holiday homes and villas all around Lago Maggiore offer space for families and travel groups of 6 to 18 people. Spaciousness and seclusion define our holiday homes at Lago Maggiore with a private pool, green outdoor facilities and modern rooms.
Holiday home at the lake – Lago Maggiore
Our holiday homes at the Lago Maggiore are located in close proximity to the lake and the beach is within walking distance. All of the homes offer a splendid view of the lake, so you can enjoy a marvellous sunset with Italian wine and other regional treats. Our luxurious holiday villas at the Lago Maggiore are spread around Baveno, Premeno and Cannero Riviero, all west of Lago Maggiore. They offer an impressive view of the vast lake as well as many different leisure activities. For example, spend your day at the beach, take a trip to one of the small villages or go hiking and take in the gorgeous scenery. Of course, you can also spend the day at the pool and in the gardens of your lovely holiday villa.
Furthermore, near the Swiss side of the lake you can find the Brissago Islands – a captivating destination for a trip. On the larger Island San Pancrazio you can find a botanic garden with over 1,600 different plant varieties, many of which are from subtropical countries. You can reach the plant paradise through Porte Ronco, Brissago or Ascoma via a shuttle boat.
Holiday home in Premeno near Val Grande
You can rent a holiday home in the beautiful mountain village Premeno near Lago Maggiore. The small village offers a spectacular view of the lake and a picturesque mountain landscape. Thus, Premeno is a perfect starting point for hiking trips. You can explore green hills near the lake. Your holiday home in Premeno is secluded in an idyllic area and will help you relax. In addition, the Val Grande National Park is located not far from the village. With a total area of over 15,000 hectares, it is the biggest wildlife reserve in the Alpine region. You can admire splendid chestnut and beechwood forest. Smaller tours are indicated through boards. If you're looking for a bigger challenge, you can partake in larger tours with a hiking guide, and even sleep in small mountain lodges. You can reach the national park conveniently from our holiday homes at the Lago Maggiore, and experience Italian nature from a different side.
Holiday villa with pool at the Lago Maggiore
The lake is right on your doorstep when you rent one of our holiday villas at the Lago Maggiore. Since the lake is a tourist hotspot, it is not always possible to relax in peace. Therefore, all of our holiday homes and villas at the Lago Maggiore are equipped with their own pool. That way, you can conveniently refresh yourself in hot weather, in the midst of your peaceful garden, away from the tourist hustle and bustle. Some of our holiday homes even offer a fantastic view of the lake right from the pool.
Holiday villa close to the city at the Lago Maggiore
You can find explore gorgeous little villages all around the Lago Maggiore. The town of Luino, south of the lake, presents itself in a fabulous art nouveau style. The west bank, with Locarno and Stresa, offers many sights, which is why Luino is still more unexplored and untouched by tourism. Nevertheless, due to its impressive architecture, Luino is certainly worth a visit. From our holiday homes at the Lago Maggiore, you can reach the little town by car. The marketplace invites you to try the specialities of the town and you can enjoy a fascinating sunset view of the impressive mountain landscape.
On the opposite side of the Lago Maggiore, the town Cannobio is located. The well-known promenade of Cannobio lies right by the water and is a perfect place to just stroll around. The beach and the medieval town centre are further highlights. While the town of Cannobio can be reached by car from Locarno, the historic district of the town can only be reached by foot.
Enjoy your holiday at the Lago Maggiore in one of our lovely holiday homes near the city, and explore the areas surrounding the lake.
Discover Lago Maggiore
One of the largest lakes in Europe, Lago Maggiore is both Italian and Swiss. Its mild climate may have played a part in its original name. The luxuriant vegetation growing on its shores includes large bushes of verbena, which inspired people in medieval times to call the lake "Verbano". In the words of Stendhal: "if you had a heart and a shirt, you would sell your shirt and visit Lago Maggiore"...
Find out more about what the lake has to offer!
Stresa – flamboyant hotels, baroque style
Stresa, a popular holiday destination since the Simplon rail tunnel was opened, has retained its grandeur. The flamboyant hotels in baroque style are located along the lake, with the Grand Hotel des Iles Borromées being the most magnificent. Ernest Hemingway stayed there while recovering from shrapnel wounds, and the hotel is mentioned in his book "A Farewell to Arms". Stresa is an excellent starting point for an excursion to the Mottarone Mountain or the Borromeo Islands. The town also has its own biscuit brand, the Margheritine di Stresa, named after Margherita of Savoy.
The Borromeo Islands
The Borromeo Islands comprise Isola Madre, Isola dei Pescatori - the only one inhabited - and Isola Bella. The work of Charles Borromeo the 3rd, the Palace and its gardens are an amazing creation. It is a magical world filled with a profusion of palm trees and plants, a water theatre built on three levels, fountains, statues of gods and satyrs and decorations made of numerous shells and pebbles. Not to be missed.
Outdoor activities at the Lago Maggiore
Lagoni di Mercurago, a park not far from Arona, with animals and small lakes
Mottarone Moutain, accessible by cable car from Stresa or by car, with fabulous views over Lago Maggiore and the Alps, and an amusement park at the top, Alpyland.
Santa Anna Gorge, at the end of the Cannobino River, offers rafting and kayaking.
Lago Maggiore also has a zipline with spectacular sceneries.
Visit villas and castles near Lago Maggiore
Villa Taranto, located in Verbania, has beautiful botanical gardens.
Villa Pallovicino Park has both a botanical and a zoological garden.
Rocca di Arona, an old fortress, is now a public park.
Rocca d'Angera has a collection of over 300 frescoes and paintings in its Sala delle Maioliche, and a Museum of Dolls and Toys.
Lago di Orta
Friedrich Nietzsche, Honoré de Balzac and Robert Browning all described the beauty of the Lago di Orta, a lake close to Lago Maggiore. It is one of the best kept secrets of the region... It is said that its only island, Isola San Giulio, was once the lair of dragons. The large Benedictine monastery is close to the Piazza Motta, the main square on the water, and there is a 12-century Romanesque basilica. The relics of Saint Julius of Novara, who gave its name to the island, are kept in the crypt.
Ferienhaus am See – Lago Maggiore
Unsere Ferienhäuser am Lago Maggiore befinden sich in unmittelbarer Nähe zum See und der Strand ist zu Fuß erreichbar. Alle Häuser bieten einen herrlichen Blick auf den See, sodass Sie einen herrlichen Sonnenuntergang mit italienischem Wein und anderen regionalen Köstlichkeiten genießen können. Unsere luxuriösen Ferienvillen am Lago Maggiore liegen in Baveno, Premeno und Cannero Riviero, alle westlich des Lago Maggiore. Sie bieten einen beeindruckenden Blick auf den riesigen See sowie viele verschiedene Freizeitaktivitäten. Verbringen Sie zum Beispiel einen Tag am Strand, machen Sie einen
Ausflug in eines der kleinen Dörfer oder eine Wanderung durch die herrliche Landschaft. Natürlich können Sie auch den Tag am Pool und im Garten Ihrer schönen Ferienvilla verbringen.
Auf der Schweizer Seite des Sees liegen außerdem die Brissago-Inseln - ein fesselndes Ziel für einen Ausflug. Auf der größeren Insel San Pancrazio befindet sich ein botanischer Garten mit über 1.600 verschiedenen Pflanzenarten, viele davon aus subtropischen Ländern. Sie erreichen das Pflanzenparadies über Porte Ronco, Brissago oder Ascoma mit einem Shuttle Boot.
Ferienhaus in Premeno bei Val Grande
In dem schönen Bergdorf Premeno in der Nähe des Lago Maggiore können Sie ein Ferienhaus mieten. Das kleine Dorf bietet einen spektakulären Blick auf den See und eine malerische Berglandschaft. Premeno ist daher ein idealer Ausgangspunkt für Wanderungen. Sie können die grünen Hügeln in der Nähe des Sees erkunden. Ihr Ferienhaus in Premeno liegt in einer idyllischen Gegend und wird Ihnen helfen, sich zu entspannen. Außerdem befindet sich der Nationalpark Val Grande nicht weit vom Dorf entfernt. Mit einer Gesamtfläche von über 15.000 Hektar ist er das größte Wildschutzgebiet im Alpenraum. Sie können die prächtigen Kastanien- und Buchenwälder bewundern. Kleinere Touren werden durch Tafeln erläutert. Wenn Sie eine größere Herausforderung suchen, können Sie an Touren mit einem Wanderführer teilnehmen und sogar in kleinen Berghütten übernachten. Sie erreichen den Nationalpark bequem von unseren Ferienhäusern am Lago Maggiore und können dort die italienische Natur mal anders entdecken.
Ferienvilla mit Pool am Lago Maggiore
Der See liegt direkt vor Ihrer Haustür, wenn Sie eine unserer Ferienvillen am Lago Maggiore mieten. Beim See handelt es sich um einen touristischen Hotspot, deshalb ist es nicht immer möglich, in Ruhe zu entspannen. Daher sind alle unsere Ferienhäuser und Villen am Lago Maggiore mit einem eigenen Pool ausgestattet. So können Sie sich bei heißem Wetter, abseits des touristischen Trubels, bequem inmitten Ihres ruhigen Gartens erfrischen. Einige unserer Ferienhäuser bieten sogar einen fantastischen Blick auf den See direkt vom Pool aus.
Stadtnahe Ferienvilla am Lago Maggiore
Rund um den Lago Maggiore gibt es wunderschöne kleine Dörfer zu entdecken. Die Stadt Luino, südlich des Sees, präsentiert sich in märchenhaftem Jugendstil. Das Westufer, mit Locarno und Stresa, bietet viele Sehenswürdigkeiten, weshalb Luino bisher noch eher unerforscht und vom Tourismus unberührt blieb. Dennoch ist Luino wegen seiner beeindruckenden Architektur sicher einen Besuch wert. Von unseren Ferienhäusern am Lago Maggiore aus erreichen Sie das Städtchen mit dem Auto. Der Marktplatz lädt Sie ein, die Spezialitäten des Ortes zu probieren und Sie können den Sonnenuntergang mit einem faszinierenden Blick auf die beeindruckende Berglandschaft genießen. Auf der gegenüberliegenden Seite des Lago Maggiore befindet sich die Stadt Cannobio. Die bekannte Promenade von Cannobio liegt direkt am Wasser und lädt zum Flanieren ein. Der Strand und das mittelalterliche Stadtzentrum sind weitere Highlights. Während die Stadt Cannobio von Locarno aus mit dem Auto erreicht werden kann, ist die Altstadt von Cannobio nur zu Fuss zu erreichen. Genießen Sie Ihren Urlaub am Lago Maggiore in einem unserer schönen Ferienhäuser in Stadtnähe, und erkunden Sie die Gegend rund um den See.
Entdecken Sie den Lago Maggiore
Als einer der größten Seen Europas ist der Lago Maggiore sowohl italienisch als auch schweizerisch. Sein mildes Klima mag eine Rolle bei seinem ursprünglichen Namen gespielt haben. Bei der üppigen Vegetation an seinen Ufern handelt es sich um große Eisenkrautsträucher, die die Menschen im Mittelalter dazu inspirierten, den See "Verbano" zu nennen. Um es mit den Worten von Stendhal zu sagen: "Wenn du ein Herz und ein Hemd hättest, würdest du dein Hemd verkaufen und den Lago Maggiore besuchen" Erfahren Sie mehr darüber, was der See zu bieten hat!
Stresa - extravagante Hotels, barocker Stil
Stresa, ein beliebtes Urlaubsziel seit der Eröffnung des Simplon-Eisenbahntunnels, hat sich seine Pracht bewahrt. Die extravaganten Hotels im Barockstil befinden sich entlang des Sees, das Grand Hotel des Iles Borromées ist das Prächtigste. Ernest Hemingway wohnte dort, während er sich von Granatsplitterwunden erholte, und das Hotel wird in seinem Buch "Ein Abschied von den Waffen" erwähnt. Stresa ist ein hervorragender Ausgangspunkt für einen Ausflug auf den Mottarone Berg oder die Borromäischen Inseln. Die Stadt hat auch ihre eigene Keksmarke, die Margheritine di Stresa, benannt nach Margherita von Savoyen.
Die Borromäischen Inseln
Die Borromäischen Inseln bestehen aus der Isola Madre, der Isola dei Pescatori - der einzigen bewohnten Insel - und die Isola Bella. Der Palast und seine Gärten sind das beeindruckende Werk von Karl Borromäus dem Dritten. Es ist eine magische Welt mit vielen Palmen und Pflanzen, einem Wassertheater auf drei Ebenen, Springbrunnen, Götter- und Satyrstatuen und Dekorationen aus Muscheln und Kieselsteinen. Absolut sehenswert!
Outdoor-Aktivitäten am Lago Maggiore
Lagoni di Mercurago, ein Park nicht weit von Arona, mit Tieren und kleinen Seen.
Mottarone Moutain, erreichbar mit der Seilbahn von Stresa oder mit dem Auto, mit herrlicher Aussicht auf den Lago Maggiore und die Alpen sowie einem Vergnügungspark auf dem Gipfel, Alpyland.
Die Santa-Anna-Schlucht am Ende des Cannobino-Flusses lädt zum Rafting und Kajakfahren ein.
Am Lago Maggiore gibt es auch eine Zipline mit spektakulären Aussichten. Besuchen Sie Villen und Schlösser in der Nähe des Lago Maggiore.
Die Villa Taranto in Verbania verfügt über wunderschöne, botanische Gärten.
Der Park der Villa Pallovicino hat sowohl einen botanischen als auch einen zoologischen Garten.
Rocca di Arona, eine alte Festung, ist heute ein öffentlicher Park.
Die Rocca d'Angera beherbergt eine Sammlung von über 300 Fresken und Gemälden in der Sala delle Maioliche und ein Museum für Puppen und Spielzeug.
Lago di Orta
Friedrich Nietzsche, Honoré de Balzac und Robert Browning beschrieben die Schönheit des Lago di Orta, ein See in der Nähe des Lago Maggiore. Er ist eines der bestgehüteten Geheimnisse der Region... man sagt, dass seine einzige Insel, die Isola San Giulio, einst die Höhle der Drachen war. Das große Benediktinerkloster befindet sich in der Nähe der Piazza Motta, dem Hauptplatz am Wasser, und es gibt eine romanische Basilika aus dem 12. Jahrhundert. Die Reliquien des Heiligen Julius von Novara, der der Insel ihren Nam en gab, werden in der Krypta aufbewahrt.