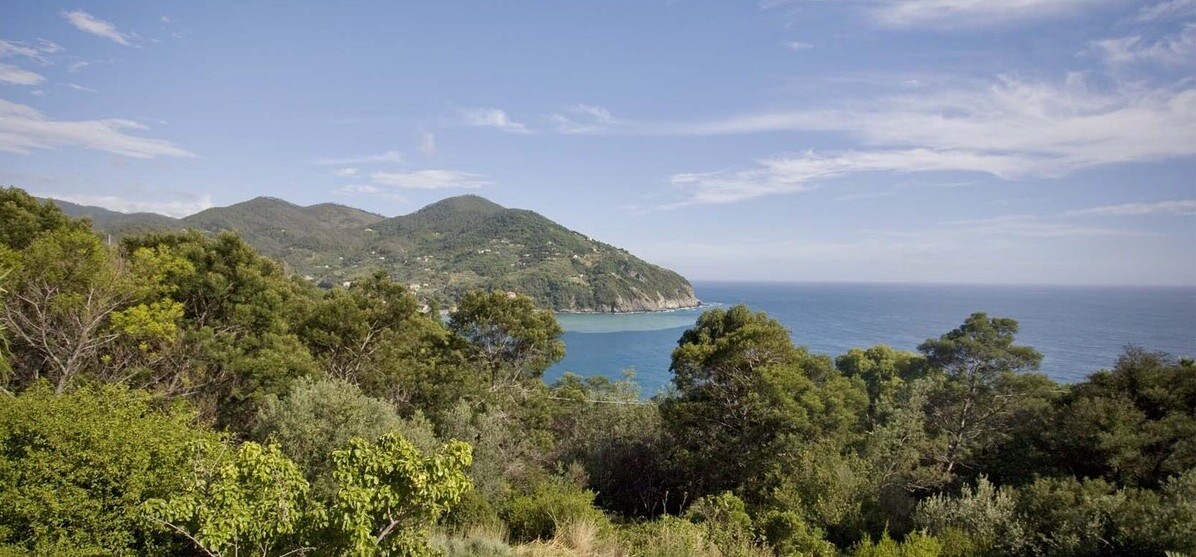 RENT A HOLIDAY VILLA IN LIGURIA
Liguria lies in the northwest of Italy and borders on the Ligurian Sea, making it the perfect location for a relaxed holiday. Our holiday homes in the region of Liguria provide the perfect starting point to explore the surroundings and their highlights. Learn more about the beautiful region and what our holiday homes in Liguria have to offer.
Holidays in Liguria: Explore Italy's north-western coastal region
To the north, the region of Liguria is bordered by the mountain ranges of the Alps and the Apennines. Liguria is one of the smallest regions in Italy and divided into the Riviera di Ponente and the Riviera di Levante. The regional city of Genoa is located between the two regions. Other well-known cities include Sanremo, Portofino and Savona. The region is particularly famous for the olive oil made from the Taggiasca olives from Imperia. Wines from Liguria are also known nationwide. Food plays an important role in Liguria too. The Pesto alla genovese and also the ravioli come from this northern Italy region. Both a beach holiday and a holiday in the mountains are possible due to the diverse environment of the area.
Holiday home in Liguria by the sea
The advantage of the region is its proximity to the sea and the mountains, meaning the holiday can be either relaxed or active. Our holiday homes by the sea are located close to the beach, which is within walking distance. Isolated from the hustle and bustle of large holiday resorts, you can find peace and relaxation in our luxurious holiday homes. Tennis courts or pools also invite you to take part in sporting activities. Most people know the region because of the Italian Riviera or individual towns like Portofino.
Italian Riviera – mountains and sea
The Italian (also called Ligurian) Riviera is one of the more popular tourist locations in Italy. The scenery is breathtaking – with mountains on one side and the sea on the other. Along the Ligurian coast, you will find beautiful places and fascinating little towns. A particular highlight of the area is the Cinque Terre National Park. The protected area comprises five little towns as well as the surrounding area. The UNESCO World Heritage Site offers hiking trails, spectacular views and much more.
Portofino – cultural hotspot
The bay of Portofino attracts both tourists and locals. With a holiday home in Liguria by the sea, you are not far away from this special town. Portofino is culturally definitely worth an excursion, for example to discover the different Roman sacred buildings in the town centre, such as the Chiesa di San Martino. Portofino is easy to reach by car from some of our holiday homes in Liguria.
Holiday home in Liguria close to a city
Cities like Genoa or Sanremo are popular destinations for tourists. In order to ensure the necessary relaxation, our holiday homes in Liguria are located a few kilometres outside the popular coastal city of Genoa. The city can be easily and quickly reached by car.
Holiday home near Genoa
As the capital of the Liguria region, Genoa is particularly worth seeing. With roughly 600,000 inhabitants, it is one of the sixth largest cities of Italy. Some of our holiday homes are located in the immediate vicinity of Genoa and a day trip is easy thanks to the well-developed road network. Both the old town and the port of Genoa are characterised by Renaissance and Baroque architecture. The Palazzi dei Rolli in the centre of Genoa is particularly noteworthy as it was declared a UNESCO World Heritage Site in 2006.
Holiday home near Sanremo
Sanremo, on the other hand, is situated right on the French border and is one of Italy's health resorts. Alfred Nobel, the eponym of the Nobel Prize, lived in Sanremo until his death. The villa of this famous personality is located in the exclusive residential area of the city.
Holiday villa or luxury holiday home in Liguria
For the exclusive holidaymaker, a stay in a holiday villa in Liguria is ideal. Our holiday villas in the region are situated directly on the coast with views over the water. Some of our holiday villas in Liguria even offer a private swimming pool – ideal to cool off on a hot day! The holiday homes offer space for up to 11 persons, making them the perfect location for holidays with friends or family. Your terrace with view on the lake is the perfect place to enjoy your coffee in the morning at sunrise and a glass of regional wine in the evening. As for the private pool and the beautiful garden, they invite you to while away the hours. Both the interior and the exterior of the Ligurian villas embody the typical Italian charm, present through the combination of wood and stone elements. Enjoy your holiday in Liguria in a holiday villa.
Ferienhaus in Ligurien am Meer
Der Vorteil der Region ist die Nähe zum Meer und zu den Bergen, sodass der Urlaub sowohl entspannt als auch aktiv gestaltet werden kann. Unsere Ferienhäuser am Meer befinden sich in unmittelbarer Nähe zum Strand, der zu Fuß erreichbar ist. Abgeschieden vom Trubel der großen Ferienanlagen finden Sie in unseren luxuriösen Ferienhäusern Ruhe und
Entspannung. Auch Tennisplätze oder Pools laden zur sportlichen Betätigung ein. Die meisten Menschen kennen die Region wegen der italienischen Riviera oder einzelner Orte wie Portofino.
Italienische Riviera - Berge und Meer
Die italienische (auch ligurische) Riviera ist eines der beliebtesten Reiseziele in Italien. Die Landschaft ist atemberaubend - mit Bergen auf der einen und dem Meer auf der anderen Seite. Entlang der ligurischen Küste finden Sie wunderschöne Orte und faszinierende kleine Städte. Ein besonderes Highlight der Region ist der Nationalpark Cinque Terre. Das Schutzgebiet umfasst fünf kleine Städte sowie die umliegende Gegend. Das UNESCO-Weltkulturerbe bietet Wanderwege, spektakuläre Aussichten und vieles mehr.
Portofino - kultureller Hotspot
Die Bucht von Portofino zieht Touristen und Einheimische gleichermaßen an. Mit einem Ferienhaus in Ligurien am Meer sind Sie nicht weit von diesem besonderen Ort entfernt. Kulturell ist Portofino auf jeden Fall einen Ausflug wert, zum Beispiel um die verschiedenen römischen Sakralbauten im Stadtzentrum zu entdecken, wie die Chiesa di San Martino. Portofino ist von einigen unserer Ferienhäuser in Ligurien aus leicht mit dem Auto zu erreichen.
Ferienhaus in Ligurien in der Nähe einer Stadt
Städte wie Genua oder Sanremo sind beliebte Ziele für Touristen. Um die nötige Entspannung zu gewährleisten, liegen unsere Ferienhäuser in Ligurien nur wenige Kilometer außerhalb der beliebten Küstenstadt Genua. Die Stadt ist mit dem Auto einfach und schnell zu erreichen.
Ferienhaus in der Nähe von Genua
Als Hauptstadt der Region Ligurien ist Genua besonders sehenswert. Mit rund 600.000 Einwohnern ist sie eine der sechstgrößten Städte Italiens. Einige unserer Ferienhäuser befinden sich in unmittelbarer Nähe von Genua und ein Tagesausflug ist dank des gut ausgebauten Straßennetzes problemlos möglich. Sowohl die Altstadt als auch der Hafen von Genua sind von der Architektur der Renaissance und des Barocks geprägt. Besonders erwähnenswert ist der Palazzi dei Rolli im Zentrum von Genua, der 2006 zum UNESCO-Weltkulturerbe erklärt wurde.
Ferienhaus in der Nähe von Sanremo
Sanremo hingegen liegt direkt an der französischen Grenze und ist einer der italienischen Kurorte. Alfred Nobel, der Namensgeber des Nobelpreises, lebte bis zu seinem Tod in Sanremo. Die Villa dieser berühmten Persönlichkeit befindet sich in der exklusiven Wohngegend der Stadt.
Ferienvilla oder Luxusferienhaus in Ligurien
Für den exklusiven Urlauber ist ein Aufenthalt in einer Ferienvilla in Ligurien ideal. Unsere Ferienvillen in der Region liegen direkt an der Küste mit Blick auf das Wasser. Einige unserer Ferienvillen in Ligurien verfügen sogar über einen privaten Swimmingpool - ideal, um sich an heißen Tagen abzukühlen! Die Ferienhäuser bieten Platz für bis zu 11 Personen und sind
somit der perfekte Ort für einen Urlaub mit Freunden oder der Familie. Ihre Terrasse mit Blick auf den See ist der perfekte Ort, um morgens bei Sonnenaufgang Ihren Kaffee und abends ein Glas Wein aus der Region zu genießen. Auch der private Pool und der schöne Garten laden zum Verweilen ein. Sowohl das Innere als auch das Äußere der ligurischen Villen verkörpern den typisch italienischen Charme, der sich durch die Kombination von Holz - und Steinelementen zeigt. Genießen Sie Ihren Urlaub in Ligurien in einer Ferienvilla.