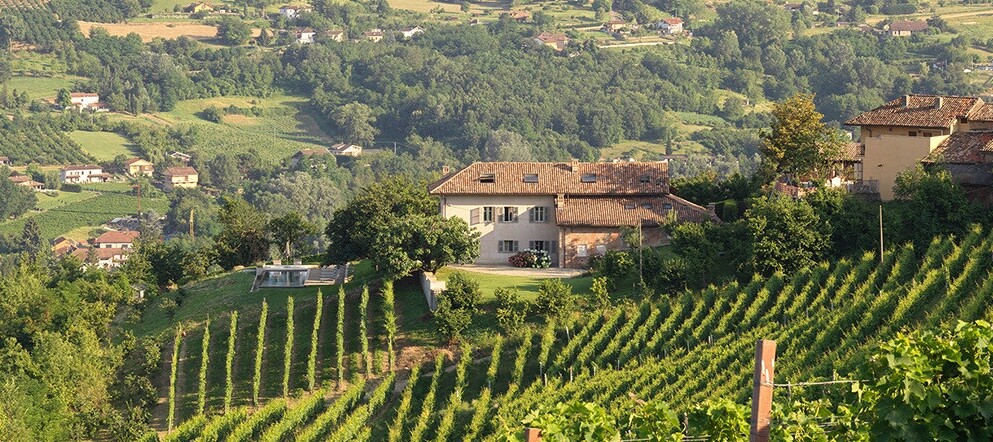 RENT A HOLIDAY VILLA IN PIEDMONT
Piedmont comes from al piè dei monti - at the foot of the mountains. The name of this region in Northern Italy could not be more appropriate, since Piedmont encompasses the north- western part of the Italian Alpine belt. Bordering Switzerland to the north and France to the west, the area is particularly popular with residents living near the border. Nevertheless, Piedmont is considered to be less developed for tourism and is therefore an inside tip for all those who seek relaxation during their holiday in Italy.
The prosperity of the region is obvious not only through the palaces and castles but also in the numerous luxurious villas. Our holiday villas offer you pure luxury with beautiful gardens, private pool and impressive interiors. In order to preserve the antique flair, the classic style elements have been preserved in the holiday villas. Of course, you do not have to go without modern conveniences. The furnishings have been completed with matching modern elements without spoiling the Italian charm. The exterior of the holiday villa in Piedmont is just as beautiful as the interior. The comfortable terrace offers views over green hills, the blue water of the lake or the artfully landscaped garden with pool. The perfect place to enjoy your coffee in the morning at sunrise and a glass of regional wine at sunset.
Depending on the holiday villa in Piedmont, there is room for up to 16 people, so a holiday with the whole family or as a group is definitely possible. Most holiday villas are divided into main and side houses, therefore the maximum number of people does not have to be reached to rent the holiday villa.
Enjoy the incredibly beautiful region of Northern Italy and spend your holiday in a holiday villa in Piedmont. Our holiday homes are located around Alba, Alessandria, Asti and all around Lake Maggiore.
Holiday villa in Piedmont by the lake
Lake Maggiore is one of the most popular tourist resorts in the Piedmont region. The azure blue water and the view on the mountains offer the perfect panorama for an idyllic stay. Enjoy the views, for example during your daily breakfast on the terrace of your holiday villa in Piedmont by the lake. In your holiday villa, you will not want for anything. The interior is modern but still has the typical Italian style. Classic wood and stone elements mix in perfect harmony with the modern interior. The garden adjacent to the holiday villa offers the possibility to relax amongst the greenery with a glass of wine. As many of the holiday villas also have a barbecue, nothing stands in the way of a nice evening on the terrace.
Rent a country house in Piedmont
Agriculture was and still is of great importance for the region. It ranges from rice growing to wine and livestock breeding, which provides meat and cheese. It is therefore not surprising that many old country houses and farmhouses characterise the region. Our country houses are completely renovated and luxuriously furnished, but the typical charm of the buildings and their surroundings remains. The large and lavishly planted gardens invite you to feel at home and the private pool provides a way to cool off on hot days. Enjoy your holiday in a country house in Piedmont.
Vacation in Piedmont
Geographically, the region is made up of three parts - the Alps, the hills and the Po Valley.
The impressive landscape of Piedmont excites every nature lover. Mount Rosa and Mount Bianco are the largest mountains of the region and ideal for hiking. The Grand Paradiso National Park is definitely worth a visit if you want to explore the wildlife and alpine environment. There are many other amazing places surrounded by breathtaking natural landscapes you may visit during your holiday in Piedmont. Among those are Monferrato, the Castello della Manta, and the hilly area Langhe.
As Piedmont was and still is one of the richest regions in the country, there are many castles, palaces and impressive churches to visit. In particular, Turin, the first capital of Italy, stands out. Turin is also renowned as the little Paris because of its evident French style. Old cafés, big squares and its elegant, baroque buildings of the 18th century are remarkable. This city is absolutely worth a visit and offers, besides the above-mentioned impressive buildings, Europe's largest market and some of the world's best museums. For example, the Egyptian Museum has the second largest collection of Egyptian treasures after Cairo and the Automobile Museum is one of the 15 best museums of the world.
The Piedmont region is also famous for its culinary highlights. If you are keen on wine tourism, the wine roads of Piedmont are highly recommended. Strada del Barolo or Strada dei Grandi Vini di Langa connect 18 different towns and guide you on the trail of the famous wines of the region - Barbera, Nebbiolo, and Barolo. Piedmont is also known for its truffles, especially for the white truffles of alba, which you should try during your vacation. Truffle tasting or truffle hunting are noteworthy activities you should also try.
Ferienvilla im Piemont – Klassik trifft Moderne
Um das antike Flair zu erhalten, wurden die klassischen Stilelemente in den Ferienvillen beibehalten. Natürlich müssen Sie auf moderne Annehmlichkeiten in Ihrem Ferienhaus im Piemont nicht verzichten. Die Einrichtung wurde mit passenden, modernen Elementen ergänzt, ohne den italienischen Charme zu zerstören. Das Äußere der Ferienvilla im Piemont ist ebenso schön wie das Innere. Die gemütliche Terrasse bietet einen Blick über grüne Hügel, das blaue Wasser des Sees oder den kunstvoll angelegten, gepflegten Garten mit Pool. Der perfekte Ort, um morgens bei Sonnenaufgang den Kaffee und bei Sonnenuntergang ein Glas Wein aus der Region zu genießen. Mehr als eine Unterkunft – die Ferienvillen von Casa in Italia bieten Piemont-Urlaubern ein einzigartiges, mediterranes Lebensgefühl!
Ferienhaus im Piemont: Mögliche Annehmlichkeiten auf einen Blick
Mit Privatpool (teilweise beheizt)
Alleinstehendes Ferienhaus
Inklusive Grill
Klimatisiert
Hunde erlaubt
Ferienhaus Piemont – reichlich Platz für Urlauber!
Einen Piemont-Urlaub verbringt man am besten in einem schönen großen Ferienhaus statt in einem Hotel oder in einer Ferienwohnung. Je nach Ferienhaus im Piemont gibt es Platz für bis zu 16 Personen, sodass ein Urlaub mit der ganzen Familie oder als Gruppe durchaus möglich ist. Die meisten Ferienvillen sind in Haupt- und Nebenhäuser unterteilt, daher muss die maximale Personenzahl nicht erreicht werden, um die Ferienvilla zu mieten.
Genießen Sie die unglaublich schöne Region Norditaliens und verbringen Sie Ihren Urlaub in einer Ferienvilla im Piemont. Unsere Ferienhäuser befinden sich bei Alba, Ales sandria, Asti und rund um den Lago Maggiore.
Ferienhaus im Piemont mit Pool
Das Piemont ist für sein Mittelmeerklima bekannt – insbesondere im Sommer kann es also entsprechend trocken und heiß werden. Was könnte es zu dieser Zeit also Besseres geben als eine kühle Erfrischung im hauseigenen Privatpool? Bei Casa in Italia finden Sie Ihr privates Ferienhaus im Piemont mit Pool – für eine perfekte Abkühlung in Ihrem Traumurlaub!
Ferienvilla in Piemont am See
Der Lago Maggiore ist einer der beliebtesten Urlaubsorte in der Region Piemont. Das azurblaue Wasser und der Blick auf die Berge bieten das perfekte Panorama für einen idyllischen Aufenthalt. Genießen Sie die Aussicht, zum Beispiel bei Ihrem täglichen Frühstück auf der Terrasse Ihrer Ferienvilla im Piemont am See. In Ihrem Ferienhaus am Lago Maggiore wird es Ihnen an nichts fehlen. Die Einrichtung ist modern, aber dennoch im typisch italienischen Stil gehalten. Klassische Holz- und Steinelemente mischen sich in perfekter Harmonie mit dem modernen Interieur. Der an die Ferienvilla angrenzende Garten bietet die Möglichkeit, sich bei einem Glas Wein im Grünen zu entspannen. Da viele der Ferienhäuser in Piemont auch über einen Grill verfügen, steht einem schönen Abend auf der Terrasse nichts im Wege..
Ein Landhaus im Piemont mieten
Die Landwirtschaft war und ist für die Region von großer Bedeutung. Sie reicht vom Reisanbau über den Weinbau bis hin zur Viehzucht, die Fleisch und Käse liefert. Es ist daher nicht verwunderlich, dass viele alte Landhäuser und Bauernhöfe die Region prägen. Unsere Landhäuser im Piemont sind komplett renoviert und luxuriös eingerichtet, doch der typische Charme der Gebäude und ihrer Umgebung bleibt erhalten. Die großen und üppig bepflanzten Gärten laden zum Wohlfühlen ein und der private Pool sorgt für Abkühlung an heißen Tagen. Genießen Sie Ihren Urlaub in einem Ferien-Landhaus im Piemont.
Urlaub im Piemont: Beliebte Reiseziele
Geografisch besteht die Region im Norden Italiens aus drei Teilen: den italienischen Alpen, den Hügeln und der Po-Ebene. Die beeindruckende Landschaft des Piemonts begeistert jeden Naturliebhaber. Der Monte Rosa und der Monte Bianco sind die größten Berge der Region und ein ideales Reiseziel zum Wandern. Der Grand-Paradiso-Nationalpark ist auf jeden Fall einen Besuch wert, wenn Sie die Tierwelt und die alpine Umgebung erkunden möchten. Es gibt noch viele andere großartige Orte inmitten atemberaubender Naturlandschaften, die Sie während Ihres Urlaubs im Piemont besuchen können. Beliebte Urlaubsziele sind beispielsweise der Monferrato, das Castello della Manta und das Hügelland Langhe.
Piemont – Geschichte, Kultur und Architektur
Da das Piemont eine der reichsten Regionen des Landes war und ist, gibt es viele Schlösser, Paläste und beeindruckende Kirchen zu besichtigen. Vor allem Turin, die erste Hauptstadt Italiens, sticht dabei hervor. Turin wird wegen seines unverkennbaren französischen Stils auch als das kleine Paris bezeichnet. Alte Cafés, große Plätze und die eleganten Barockbauten aus dem 18. Jahrhundert sind besonders eindrucksvoll. Die Stadt ist auf jeden Fall einen Besuch wert. Sie bietet neben den oben erwähnten, beeindruckenden Gebäuden auch den größten Markt Europas und einige der besten Museen der Welt. So beherbergt das Ägyptische Museum die zweitgrößte Sammlung ägyptischer Schätze nach Kairo und das Automobilmuseum gehört zu den 15 besten Museen der Welt.
Kulinarische Highlights im Piemont
Die Region Piemont ist wie viele Gegenden in Italien auch für ihre kulinarischen Highlights bekannt. Wenn Sie sich für Weintourismus interessieren, sind die Weinstraßen des Piemont sehr zu empfehlen. Die Strada del Barolo oder die Strada dei Grandi Vini di Langa verbinden 18 verschiedene Städte und führen Sie auf die Spuren der berühmten Weine der Region - Barbera, Nebbiolo und Barolo. Das Piemont ist auch für seinen Trüffel bekannt, insbesondere für den weißen Trüffel aus Alba, den Sie unbedingt probieren sollten
Genießen Sie Ihren nächsten Urlaub in Piemont in einem Ferienhaus von Casa in Italia. Wir machen Ihren Traumurlaub wahr!