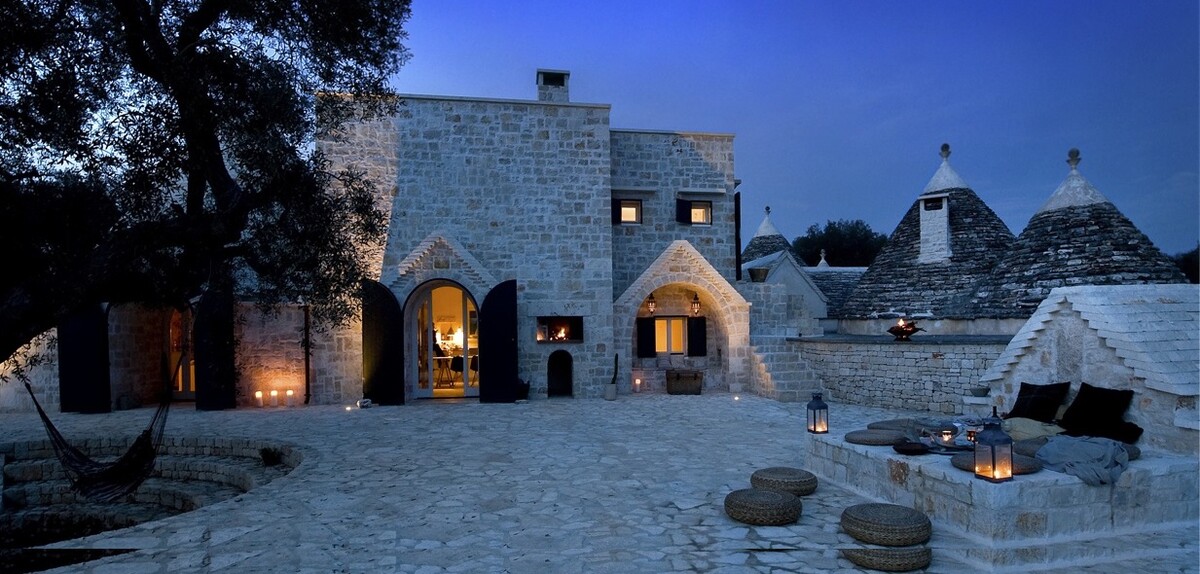 Villa Rental Apulia
What are you looking for in your next vacation? The beautiful coastline of Southern Italy, the charming towns scattered across the region, or maybe a cultural experience unlike any other. If you're searching for something new and exciting, look no further than a villa in Apulia!
Italy is a beautiful country with many wonderful things to see and do. This region offers visitors a chance to enjoy some of Italy's best beaches and seaside towns and explore its rich culture and history.
If you are looking for an unforgettable vacation experience, we recommend renting a villa for your stay in Apulia.
Whether you're there on vacation or business travel, our luxurious villas offer spacious living quarters that will help make your time away from home more enjoyable.
We offer various amenities such as swimming pools, private gardens, and terraces overlooking the sea, perfect for those who need some downtime after exploring all this area offers.
And with the wide range of available services that we provide, you can rest assured that we will meet all your needs while making sure that you enjoy your stay.
Apulia Villa Private Pool
The breath-taking views and scenery make Apulia a perfect place to spend your holidays in Italy. Whether you want to enjoy a swim or get some sun, our pools are available for your use every day and are the perfect place to spend time when not out exploring.
Our villas are also fully equipped with all the amenities you may need during your stay, such as internet access, satellite/cable TV, air conditioning units, appliances for cooking, and even a Jacuzzi tub in some cases.
Our villas are perfect for groups of friends, families, or colleagues. With up to 14 bedrooms and multiple living areas, there are enough accommodations to fit a group of any size. Our spectacular bathrooms offer both showers and bathtubs, making it easy to relax after a long day exploring the region's many wonderful attractions.
Villa Rental Apulia near the beach
If you are looking for a vacation rental with easy beach access, our villas in Apulia will be perfect for your needs. The region's most popular towns and beaches can all be reached within just a short drive from our villas!
The beaches will give you a chance to relax and enjoy the sun while also taking in some of the region's most beautiful scenery. Our villas are designed with comfort in mind, making them the perfect place to spend your days when you're not out exploring the area.
The beach provides many possibilities. A holiday villa in Apulia on the beachfront means the sea is within walking distance. The Mediterranean Sea invites you to snorkel. The coast is regarded as one of the cleanest in Italy, which is why the bathing possibilities are numerous. A leisurely boat trip or the more active version on a surfboard provide variety if you want to spend the day on the beach. The small harbour towns also invite you to be inspired by the Italian flair. Apulia is known for not being overcrowded by tourism so far. This is why you will find absolute relaxation in this region and be able to fully enjoy the Italian flair.
Rent a Trullo in Apulia
Although Apulia is never really far from the sea, there is also the possibility to discover green spots. To the north of the region is the Gargano National Park. The numerous dense forests make the sea almost fade away and invite to walks, hikes or bike tours. Olive trees and masserie can be found in the Southern part of Puglia, in the provinces of Brindisi, Bari and Taranto. From the holiday villas in Apulia directly on the beach you can get comfortably and
without major problems to the inland and catch a glimpse of a somewhat different Italy. Numerous cathedrals and castles give an idea of the history of the country and can become a destination for day trips. The area around the provinces of Brindisi and Taranto, known as the land of the Trulli, also impresses with vineyards and plantations full of lemon trees. Trulli is the name given to the stone houses with conical roofs that date back to the 14th century and are typical of this province. If you want to experience the charm of these historic buildings up close, you can spend your holiday in one of our exclusive Trullo styled holiday homes. In contrast to a traditional trullo, you don't have to forego any amenities here. Keeping the traditional dry stone look and the typical conical roof on the outside, they provide modern equipment and comfort in the inside giving you the feeling of staying in a villa.
Ferienhaus Apulien – Mögliche Annehmlichkeiten auf einen Blick
• Alleinstehendes Ferienhaus
• Mit privatem Pool – bei manchen Häusern auch beheizt
• Fußläufige Entfernung zum Strand
• Mit Garten oder Terrasse
• Meerblick
Wir bieten verschiedene Annehmlichkeiten wie Swimmingpools, private Gärten und Terrassen mit Blick aufs Meer, ideal für diejenigen, die nach dem Erkunden der Gegend eine Auszeit brauchen. Mit der breiten Palette an Dienstleistungen, die wir anbieten, können Sie sich darauf verlassen, dass wir alle Ihre Bedürfnisse erfüllen. Wir sorgen dafür, dass Sie den Aufenthalt in Ihrem Ferienhaus in Apulien genießen!
Zu den weiteren Annehmlichkeiten der Ferienvillen in Apulien gehören beispielsweise Internetzugang, Satelliten-/Kabelfernsehen, Klimaanlagen, Küchengeräte und in einigen Fällen sogar ein Whirlpool. Unsere Villen sind ideal für Gruppen von Freunden, Familien oder Kollegen. Mit bis zu 14 Schlafzimmern und mehreren Wohnbereichen gibt es genügend Platz für die ganze Familie und Gruppen jeder Größe. Unsere spektakulären Badezimmer in den Ferienhäusern in Apulien bieten sowohl Duschen als auch Badewannen. So können Sie sich nach einem langen Tag, an dem Sie die vielen wunderbaren Sehenswürdigkeiten der Region erkundet haben, entspannen.
Villa in Apulien mit privatem Pool
Die atemberaubenden Aussichten und Landschaften machen Apulien zu einem perfekten Ort für Ihren Urlaub in Italien. Insbesondere im Sommer sorgt das Mittelmeerklima der Region für sehr heiße Temperaturen. Beste Voraussetzungen also, wenn Sie ein Ferienhaus in Apulien mit Pool mieten! Ob Sie schwimmen oder sich sonnen möchten, unsere Pools stehen Ihnen jeden Tag zur Verfügung. Gerade bei heißem und trockenem Wetter ist der hauseigene Pool der perfekte Ort, um Ihre Zeit zu verbringen, wenn Sie mal nicht auf Entdeckungstour sind. Ein Privatpool in der Ferienvilla ist zudem auch ideal für Familien – gerade Kinder können sich stundenlang im kühlen Nass beschäftigen. Doch auch Erwachsene genießen natürlich die Abkühlung an heißen Tagen.
Wählen Sie in der Suchfunktion unten bei "Eigenschaften" einfach "Pool" beziehungsweise "Beheizter Pool", um entsprechende Häuser zu erkunden. Und überzeugen Sie sich selbst von unserer Auswahl an wunderschönen Ferienhäusern in Apulien mit Pool!
Villa in Apulien mieten – nah am Strand
Wenn Sie auf der Suche nach einem Ferienhaus mit einfachem Zugang zum Strand sind, dann passen unsere Villen in Apulien perfekt zu Ihren Bedürfnissen. Die beliebtesten Städte und Strände der Region sind alle nur eine kurze Fahrt von unseren Villen entfernt! Am Sandstrand können Sie sich entspannen und die Sonne genießen, während Sie gleichzeitig einige der schönsten Landschaften der Region bewundern.
Unsere Ferienhäuser in Apulien sind so konzipiert, dass sie sich durch ihren Komfort auszeichnen und der perfekte Ort sind, um die Tage zu verbringen, wenn Sie nicht gerade die Gegend erkunden. Der Strand bietet viele Möglichkeiten, egal ob Sie Wassersport betreiben oder sich einfach nur sonnen wollen. Eine Ferienvilla in Apulien direkt am Strand bedeutet, dass das Meer zu Fuß erreichbar ist. Das Mittelmeer lädt Sie zum Schnorcheln ein. Die Küste gilt als eine der saubersten Italiens, weshalb es auch zahlreiche Bademöglichkeiten gibt.
Eine gemütliche Bootsfahrt oder die aktivere Variante auf dem Surfbrett sorgen für Abwechslung, wenn Sie den Tag am Strand verbringen möchten. Auch die kleinen Hafenstädte laden dazu ein, sich vom italienischen Flair inspirieren zu lassen. Apulien ist dafür bekannt, dass es vom Tourismus noch nicht überlaufen ist. Deshalb finden Sie in dieser Region absolute Entspannung und können das italienische Flair in vollen Zügen genießen. Dreh- und Angelpunkt hierfür ist Ihr luxuriöses Ferienhaus in Apulien.
Die Region Apulien: Mehr als nur Küste
Obwohl man in Apulien nie weit vom Meer entfernt ist, gibt es auch die Möglichkeit, Grünflächen zu entdecken. Im Norden der Region liegt der Gergano-Nationalpark. Die zahlreichen dichten Wälder laden zu Spaziergängen, Wanderungen oder Radtouren ein. Olivenbäume und Bauernhöfe findet man im südlichen Teil Apuliens, in den Provinzen Brindisi, Bari und Taranto.
Von den Ferienvillen in Apulien direkt am Strand kann man bequem ins Landesinnere gelangen und einen Blick auf ein etwas anderes Italien erhaschen. Zahlreiche Kathedralen und Burgen geben einen Einblick in die Geschichte des Landes und können zum Ziel von Tagesausflügen werden. Natürlich gibt es auch faszinierende Städte wie Lecce ("Das Florenz des Südens"), Ostuni ("Die weiße Stadt") und Alberobello ("Die Stadt der Trulli").
Trullo in Apulien mieten
Auch die Gegend um die Provinzen Brindisi und Tarent, bekannt als das Land der Trulli, beeindruckt mit Weinbergen und Plantagen voller Zitronenbäume. Trulli nennt man die für diese Provinz typischen Steinhäuser mit Kegeldächern aus dem 14. Jahrhundert. Wenn Sie den Charme dieser historischen Gebäude hautnah erleben wollen, können Sie Ihren Urlaub in einem unserer exklusiven Ferienhäuser im Trullo-Stil verbringen. Im Gegensatz zu einem traditionellen Trullo müssen Sie hier auf keinerlei Annehmlichkeiten verzichten. Sie behalten außen das traditionelle Trockenmauerwerk und das typische Kegeldach bei, bieten aber innen moderne Ausstattung und Komfort und vermitteln Ihnen das Gefühl, in einer Villa zu wohnen.
Konnten wir Sie von einem Urlaub im wunderschönen Apulien überzeugen? Stöbern Sie gerne durch unsere verfügbaren Villen – wir sind sicher, dass wir für Sie das perfekte Ferienhaus in Apulien finden!