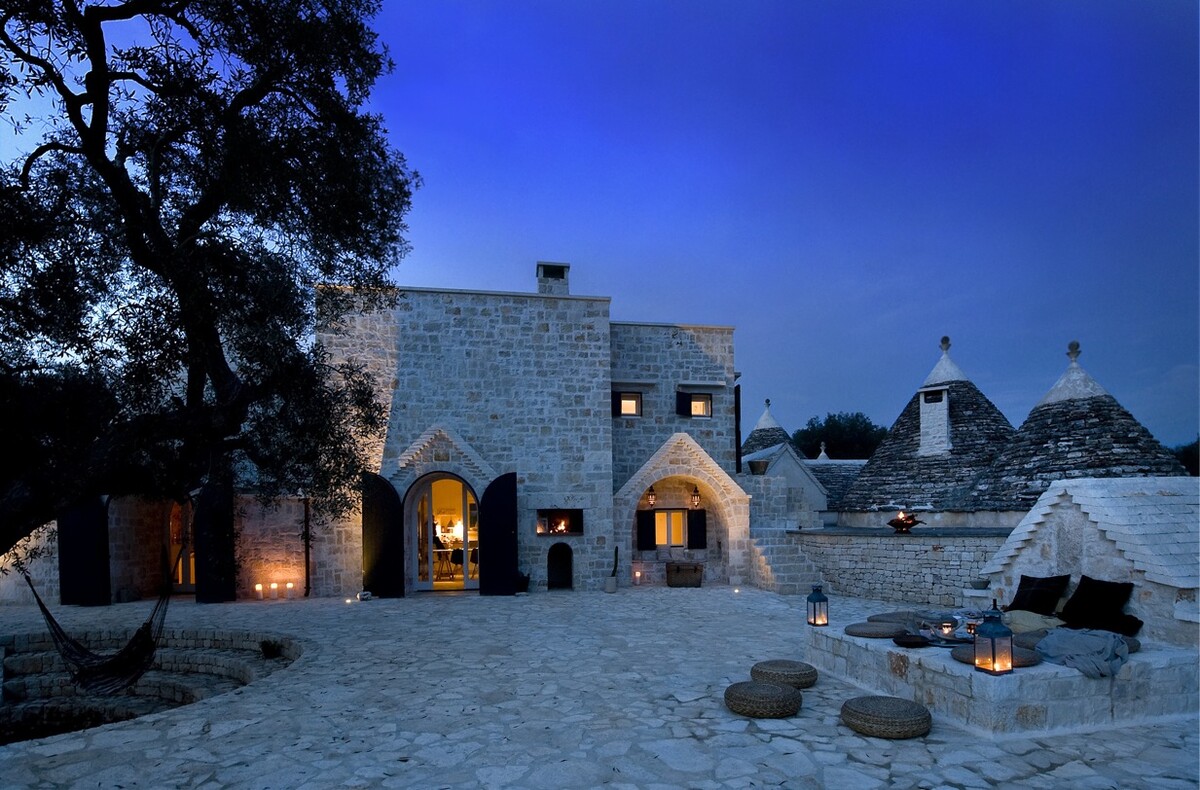 Villa Rental Apulia
What are you looking for in your next vacation? The beautiful coastline of Southern Italy, the charming towns scattered across the region, or maybe a cultural experience unlike any other. If you're searching for something new and exciting, look no further than a villa in Apulia!
Italy is a beautiful country with many wonderful things to see and do. This region offers visitors a chance to enjoy some of Italy's best beaches and seaside towns and explore its rich culture and history.
If you are looking for an unforgettable vacation experience, we recommend renting a villa for your stay in Apulia.
Whether you're there on vacation or business travel, our luxurious villas offer spacious living quarters that will help make your time away from home more enjoyable.
We offer various amenities such as swimming pools, private gardens, and terraces overlooking the sea, perfect for those who need some downtime after exploring all this area offers.
And with the wide range of available services that we provide, you can rest assured that we will meet all your needs while making sure that you enjoy your stay.
Apulia Villa Private Pool
The breath-taking views and scenery make Apulia a perfect place to spend your holidays in Italy. Whether you want to enjoy a swim or get some sun, our pools are available for your use every day and are the perfect place to spend time when not out exploring.
Our villas are also fully equipped with all the amenities you may need during your stay, such as internet access, satellite/cable TV, air conditioning units, appliances for cooking, and even a Jacuzzi tub in some cases.
Our villas are perfect for groups of friends, families, or colleagues. With up to 14 bedrooms and multiple living areas, there are enough accommodations to fit a group of any size. Our spectacular bathrooms offer both showers and bathtubs, making it easy to relax after a long day exploring the region's many wonderful attractions.
Villa Rental Apulia near the beach
If you are looking for a vacation rental with easy beach access, our villas in Apulia will be perfect for your needs. The region's most popular towns and beaches can all be reached within just a short drive from our villas!
The beaches will give you a chance to relax and enjoy the sun while also taking in some of the region's most beautiful scenery. Our villas are designed with comfort in mind, making them the perfect place to spend your days when you're not out exploring the area.
The beach provides many possibilities. A holiday villa in Apulia on the beachfront means the sea is within walking distance. The Mediterranean Sea invites you to snorkel. The coast is regarded as one of the cleanest in Italy, which is why the bathing possibilities are numerous. A leisurely boat trip or the more active version on a surfboard provide variety if you want to spend the day on the beach. The small harbour towns also invite you to be inspired by the Italian flair. Apulia is known for not being overcrowded by tourism so far. This is why you will find absolute relaxation in this region and be able to fully enjoy the Italian flair.
Rent a Trullo in Apulia
Although Apulia is never really far from the sea, there is also the possibility to discover green spots. To the north of the region is the Gargano National Park. The numerous dense forests make the sea almost fade away and invite to walks, hikes or bike tours. Olive trees and masserie can be found in the Southern part of Puglia, in the provinces of Brindisi, Bari and Taranto. From the holiday villas in Apulia directly on the beach you can get comfortably and
without major problems to the inland and catch a glimpse of a somewhat different Italy. Numerous cathedrals and castles give an idea of the history of the country and can become a destination for day trips. The area around the provinces of Brindisi and Taranto, known as the land of the Trulli, also impresses with vineyards and plantations full of lemon trees. Trulli is the name given to the stone houses with conical roofs that date back to the 14th century and are typical of this province. If you want to experience the charm of these historic buildings up close, you can spend your holiday in one of our exclusive Trullo styled holiday homes. In contrast to a traditional trullo, you don't have to forego any amenities here. Keeping the traditional dry stone look and the typical conical roof on the outside, they provide modern equipment and comfort in the inside giving you the feeling of staying in a villa.