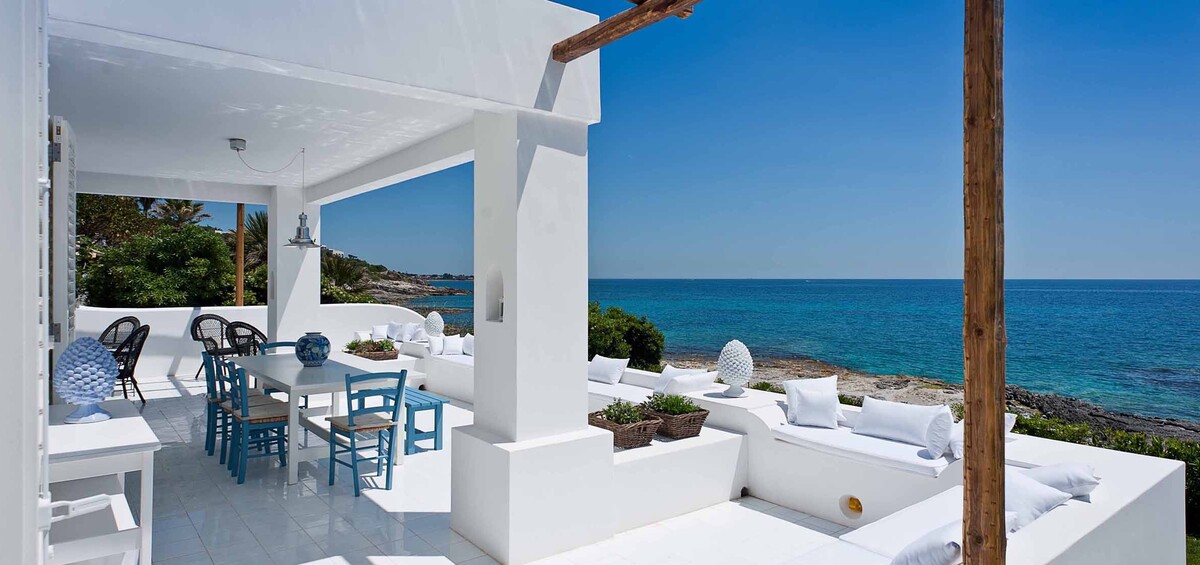 Sicily villa for rent – our holiday villas in Sicily
Sicily is one of the largest islands in the Mediterranean and impresses with its kilometers of coastline. The Strait of Messina separates the island from Southern Italy. Numerous leisure activities invite you to discover the island and its nature or history. Great writers, such as Johann Wolfgang von Goethe, were raving about Sicily as a treasure at the time. Our holiday villas are spread all over the island and offer space for relaxation through the generous size of the properties. Between 4 and 28 people have enough space in the holiday villas in Sicily, ideal not only for family holidays but also for groups. The luxurious properties are all modernly equipped and offer a private pool and other amenities. Many of the holiday villas in Sicily are by the sea and the beach is within walking distance. Relax in the cool water of the private pool or enjoy the evening sun in the beautiful garden with a glass of wine.
Luxury Villas in Sicily with Private Pool
You don't have to settle for a villa without its own pool. In Sicily, you will find the best luxury villas with private pools, as well as spectacular Mediterranean views.
There are some impressive villas available around the island. These villas are constructed of local stone, and many have been built on the land for centuries. They offer swimming pools, landscaped gardens, and stunning views of the sea.
With up to 14 bedrooms, you can share your vacation with a large group of family or friends. You might even be able to bring some furry friends along, as many of these villas accept well-behaved pets.
These luxury villas are perfect for weddings and special occasions because of the grand scale on which they have been built by generations of Sicilian families.
The sea views will take your breath away, and the island's sunsets are well worth the spectacular display. For families visiting Sicily with children, these villas offer private pools so that parents can relax while their kids splash around in the pool.
Villas in Sicily for Rent with Gardens
There is also the option of staying at a villa with outdoor garden space. These are some of the most attractive options for Sicily villas rentals because they have been landscaped into beautiful gardens, many completed with fountains and statues. This is another way to enjoy your vacation in Sicily in private without having to spend time planning a trip to the beach every day.
Most of these villas have multiple terraces so that you can take advantage of the views from all angles. You might even be able to see the sea from your bedroom window!
Holiday villa in Sicily directly by the sea
If beach views are an absolute must for your villa rental vacation in Sicily, you will want to choose a property near the sea. You may even want to look for a villa on the beach itself! The beaches of Sicily are among some of the most stunning in Italy. They offer crystal clear waters, and many have award-winning restaurants nearby.
Many of these villas offer direct access to the beach for a secluded vacation experience where you can swim, sunbathe, and relax in peace. The clear tide and the unmistakable play of colours of the water make divers' hearts beat faster. That is why there are several diving schools where you can rent equipment for a snorkeling experience too and you can then discover the fascinating underwater world of the Mediterranean. If you are looking for a more sporting activity, there are many places for kitesurfing or windsurfing. The coasts of Cefalú or Taormina and Lampedusa are ideal for this and popular with young and old. As we offer holiday villas all over the island, all towns and coasts are within easy reach. With up to 13 bathrooms in some villas, you can all get ready for the day at once in separate rooms.
Holiday villa in Sicily close to a city
In Sicily, our holiday villas are not only located directly by the sea, but also close to some of the larger coastal towns, such as Syracuse. For holidaymakers who love ancient architecture, the city is a must. Temples, narrow streets and beautiful houses make the visitors travel back in time. If you are hungry after a leisurely stroll through the city, there are numerous possibilities to taste the Italian cuisine. An ice cream, fresh fruit from small market stalls or antipasti with olives, tomatoes and peppers from the region reflect Sicily best. After an exciting day, enjoy the peace and quiet in one of our holiday villas. Cool off in the private pool or enjoy a glass of regional wine on the terrace and let your gaze wander over the sea.
Ferienhaus Sizilien – mögliche Annehmlichkeiten auf einen Blick
• Nahe am Strand gelegen und mit Meerblick
• Mit privatem Pool
• Moderne Ausstattung
• Mit schönem Garten für italienischen Flair
• Klimaanlage
Bitte beachten Sie, dass nicht alle Annehmlichkeiten in jedem Ferienhaus auf Sizilien verfügbar sind. Unsere Suchfunktion bietet Ihnen daher die Möglichkeit, die Häuser nach den gewünschten Eigenschaften zu filtern – für Ihren Traumurlaub auf Sizilien!
Luxusvillen auf Sizilien mit eigenem Pool
Sie müssen sich nicht mit einer Villa ohne eigenen Pool zufriedengeben. Auf Sizilien finden Sie die besten Luxusvillen mit privaten Pools und spektakulärem Blick auf das Mittelmeer. Es gibt einige beeindruckende Villen auf der ganzen Insel. Diese Villen sind aus lokalem Stein gebaut, viele sind bereits vor Jahrhunderten auf dem Land errichtet worden. Sie bieten Swimmingpools, angelegte Gärten und einen atemberaubenden Blick auf das Meer.
Mit bis zu 14 Schlafzimmern können Sie im Ferienhaus auf Sizilien Ihren Urlaub mit einer großen Gruppe, Ihrer Familie oder Ihren Freunden teilen. Nach Anfrage können Sie sogar ein paar pelzige Freunde mitbringen, denn viele dieser Ferienvillen auf Sizilien akzeptieren gut erzogene Haustiere. Die Luxusvillen eignen sich perfekt für Hochzeiten und besondere Anlässe, da sie mit sehr viel Stil vor Generationen von sizilianischen Familien gebaut wurden.
Ferienhaus auf Sizilien – mit Pool und traumhafter Aussicht
Casa in Italia bietet Ihnen Ferienhäuser auf Sizilien mit Pool. Darüber hinaus wird die Aussicht auf das Meer Ihnen den Atem rauben – und die Sonnenuntergänge auf der Insel sind ein spektakuläres Erlebnis. Für Familien, die Sizilien mit Kindern besuchen, bieten die Ferienvillen private Pools, damit die Eltern entspannen können, während ihre Kinder im Pool planschen. Doch auch die Erwachsenen können eine erfrischende Abkühlung gelegentlich gebrauchen. Schließlich herrscht auf Sizilien ein mediterranes Klima und es kann vor allem im Sommer sehr heiß werden. Ein Ferienhaus auf Sizilien mit Pool ist da doch die beste Möglichkeit für Ihren Traumurlaub auf der Mittelmeerinsel.
Villen in Sizilien zur Miete mit Gärten
Es gibt auch die Möglichkeit, eine schöne Villa mit Garten auf Sizilien zu mieten. Diese Villen gehören zu den attraktivsten Optionen für den Sizilienurlaub. Viele der Gärten sind mit Brunnen und Statuen ausgestattet, was für ein ganz besonderes Flair sorgt. So können Sie Ihren Urlaub auf Sizilien genießen, ohne jeden Tag einen Ausflug an den Strand zu planen.
Die meisten der Luxus-Ferienhäuser auf Sizilien haben mehrere Terrassen, sodass Sie die Aussicht von allen Blickwinkeln genießen können. Vielleicht können Sie sogar von Ihrem Schlafzimmerfenster auf das Meer sehen!
Urlaubsvilla auf Sizilien direkt am Meer
Wenn der Blick auf den Sandstrand ein absolutes Muss für Ihren Urlaub in einer Villa auf Sizilien ist, sollten Sie sich für eine Immobilie in der Nähe des Meeres entscheiden. Vielleicht möchten Sie sogar nach einer modernen Villa direkt am Strand Ausschau halten! Die Strände von Sizilien gehören zu den schönsten in Italien. Sie bieten kristallklares Wasser, und viele haben preisgekrönte Restaurants in der Nähe.
Viele unserer Ferienvillen auf Sizilien bieten einen direkten Zugang zum Strand, sodass Sie in Ruhe schwimmen, sonnenbaden und entspannen können. Die klaren Gezeiten und das unverwechselbare Farbenspiel des Wassers lassen die Herzen der Taucher höherschlagen. Deshalb gibt es mehrere Tauchschulen, bei denen man Schnorchelausrüstung ausleihen und so die faszinierende Unterwasserwelt des sizilianischen Mittelmeers entdecken kann.
Wenn Sie auf der Suche nach einer sportlichen Aktivität sind, gibt es viele Orte zum Kitesurfen oder Windsurfen. Die Küsten von Cefalú oder Taormina und Lampedusa sind ideal dafür und bei Jung und Alt beliebt. Da wir Ferienvillen auf der ganzen Insel anbieten, sind verschiedenste Städte und Küsten leicht zu erreichen. Mit bis zu 13 Badezimmern in einigen Villen können Sie sich alle gleichzeitig in getrennten Räumen auf den Tag vorbereiten. So können Sie während Ihres Urlaubs im Ferienhaus auf Sizilien die Gesellschaft Ihrer Familie oder Freunde genießen und müssen dennoch nicht auf Privatsphäre verzichten.
Urlaubsvilla auf Sizilien nahe dem Zentrum
Auf Sizilien liegen unsere Ferienhäuser nicht nur direkt am Meer, sondern auch in der Nähe einiger größerer Küstenstädte wie Syrakus. Für Urlauber, die antike Architektur lieben, ist die Stadt ein Muss. Tempel, enge Gassen und schöne Häuser lassen die Besucher in die Vergangenheit reisen.
Wenn Sie nach einem gemütlichen Stadtbummel hungrig sind, gibt es zahlreiche Möglichkeiten, die italienische Küche zu kosten. Ein Eis, frisches Obst von kleinen Marktständen oder Antipasti mit Oliven, Tomaten und Paprika aus der Region spiegeln Sizilien am besten wider. Aber auch andere Städte wie Ragusa, Catania, Messina und natürlich die Hauptstadt der Region, Palermo, sind einen Besuch wert.
Nach einem erlebnisreichen Tag können Sie die Ruhe in einer unserer Ferienvillen mit Pool genießen. Kühlen Sie sich im privaten Pool ab oder genießen Sie ein Glas regionalen Wein auf der Terrasse und lassen Sie Ihren Blick über das Meer schweifen. Buchen Sie Ihren nächsten Urlaub in Italien und genießen Sie traumhafte Tage in einem Ferienhaus auf Sizilien!