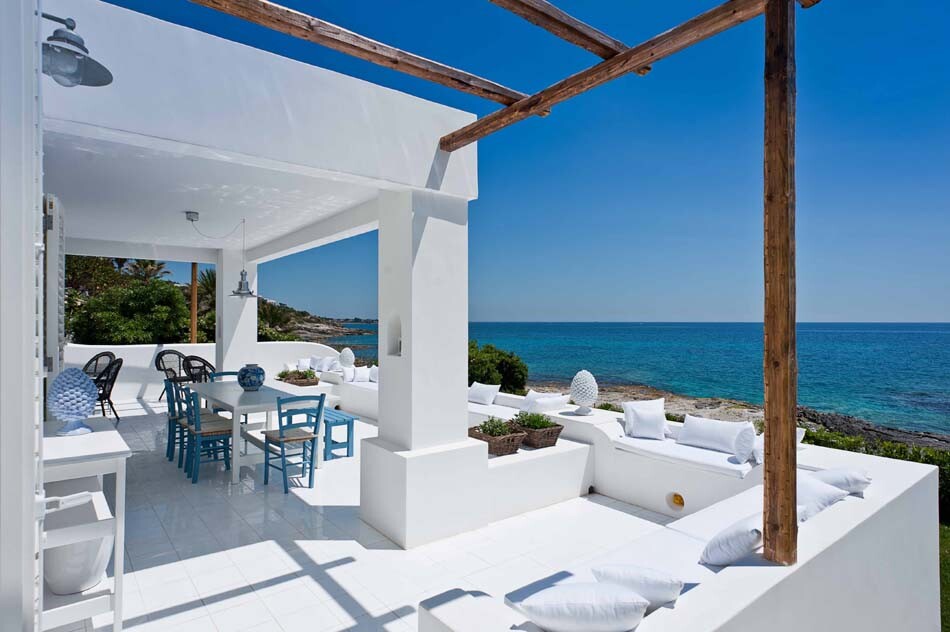 Sicily villa for rent – our holiday villas in Sicily
Sicily is one of the largest islands in the Mediterranean and impresses with its kilometers of coastline. The Strait of Messina separates the island from Southern Italy. Numerous leisure activities invite you to discover the island and its nature or history. Great writers, such as Johann Wolfgang von Goethe, were raving about Sicily as a treasure at the time. Our holiday villas are spread all over the island and offer space for relaxation through the generous size of the properties. Between 4 and 28 people have enough space in the holiday villas in Sicily, ideal not only for family holidays but also for groups. The luxurious properties are all modernly equipped and offer a private pool and other amenities. Many of the holiday villas in Sicily are by the sea and the beach is within walking distance. Relax in the cool water of the private pool or enjoy the evening sun in the beautiful garden with a glass of wine.
Luxury Villas in Sicily with Private Pool
You don't have to settle for a villa without its own pool. In Sicily, you will find the best luxury villas with private pools, as well as spectacular Mediterranean views.
There are some impressive villas available around the island. These villas are constructed of local stone, and many have been built on the land for centuries. They offer swimming pools, landscaped gardens, and stunning views of the sea.
With up to 14 bedrooms, you can share your vacation with a large group of family or friends. You might even be able to bring some furry friends along, as many of these villas accept well-behaved pets.
These luxury villas are perfect for weddings and special occasions because of the grand scale on which they have been built by generations of Sicilian families.
The sea views will take your breath away, and the island's sunsets are well worth the spectacular display. For families visiting Sicily with children, these villas offer private pools so that parents can relax while their kids splash around in the pool.
Villas in Sicily for Rent with Gardens
There is also the option of staying at a villa with outdoor garden space. These are some of the most attractive options for Sicily villas rentals because they have been landscaped into beautiful gardens, many completed with fountains and statues. This is another way to enjoy your vacation in Sicily in private without having to spend time planning a trip to the beach every day.
Most of these villas have multiple terraces so that you can take advantage of the views from all angles. You might even be able to see the sea from your bedroom window!
Holiday villa in Sicily directly by the sea
If beach views are an absolute must for your villa rental vacation in Sicily, you will want to choose a property near the sea. You may even want to look for a villa on the beach itself! The beaches of Sicily are among some of the most stunning in Italy. They offer crystal clear waters, and many have award-winning restaurants nearby.
Many of these villas offer direct access to the beach for a secluded vacation experience where you can swim, sunbathe, and relax in peace. The clear tide and the unmistakable play of colours of the water make divers' hearts beat faster. That is why there are several diving schools where you can rent equipment for a snorkeling experience too and you can then discover the fascinating underwater world of the Mediterranean. If you are looking for a more sporting activity, there are many places for kitesurfing or windsurfing. The coasts of Cefalú or Taormina and Lampedusa are ideal for this and popular with young and old. As we offer holiday villas all over the island, all towns and coasts are within easy reach. With up to 13 bathrooms in some villas, you can all get ready for the day at once in separate rooms.
Holiday villa in Sicily close to a city
In Sicily, our holiday villas are not only located directly by the sea, but also close to some of the larger coastal towns, such as Syracuse. For holidaymakers who love ancient architecture, the city is a must. Temples, narrow streets and beautiful houses make the visitors travel back in time. If you are hungry after a leisurely stroll through the city, there are numerous possibilities to taste the Italian cuisine. An ice cream, fresh fruit from small market stalls or antipasti with olives, tomatoes and peppers from the region reflect Sicily best. After an exciting day, enjoy the peace and quiet in one of our holiday villas. Cool off in the private pool or enjoy a glass of regional wine on the terrace and let your gaze wander over the sea.